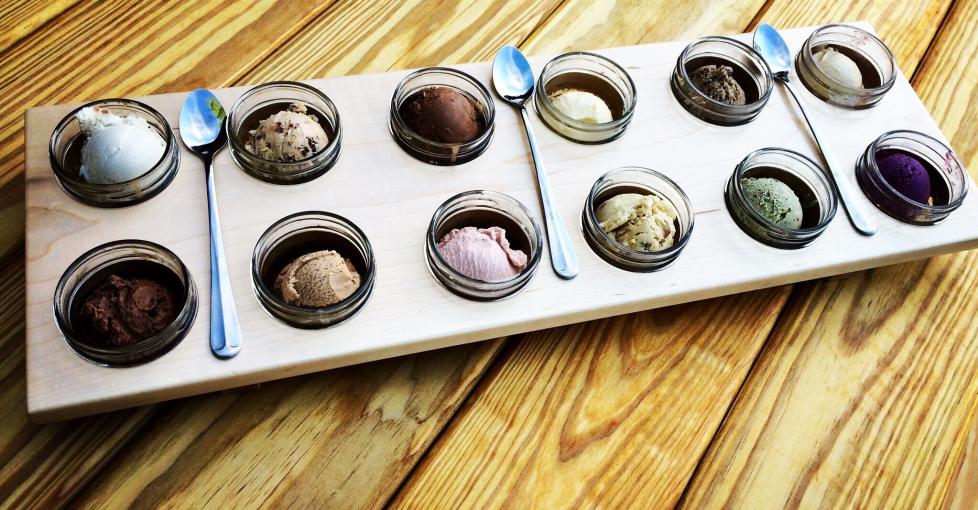 From delicious sweets to savory treats, the Finger Lakes runs the gamut of good eats all across the region. We know it can be hard to choose exactly what to dine on and dive into during your vacation. So, we did the hard work for you and rounded up our "best of the best," most daring and delectable dishes, found right here in the Finger Lakes.
Disclaimer: We polled our 14 county tourism professionals, and these are their 'bests.' Just a little 'insider' opinion but, you know how it goes.  Ask the locals!
Let's kick it off with a sweet start: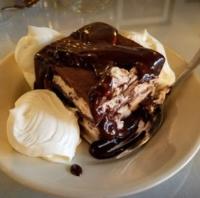 Think handmade chocolate noodles, layered with chocolate ganache and cannoli filling, topped with warm chocolate ganache and fresh whipped cream. It's almost too good to dream up, but this decadent dessert is all too real – and found right in downtown Mt. Morris at Questa Lasagna. Though their exact recipe is a secret, we do know that the ingredients include plentiful amounts of cocoa, semolina flour, organic eggs, impastata ricotta cheese, sugar, vanilla, heavy cream, and lots and lots of chocolate.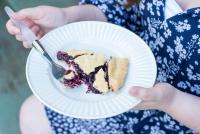 We are home to the Grape Pie Capital of the World! This sweet dessert can be found in abundance in the town of Naples, NY at the lower end of Canandaigua Lake. You've probably had apple pie, pumpkin pie, or berry pie – but we bet you've never had pie quite like this. Sweet and fruity with a crumbly crust, it's a favorite of the Finger Lakes. Concord grapes make up the middle, after they've been skinned, cooked, and separated from the seeds. At Monica's Pies, they'll ship the whole pie right to your door – or you can take on the challenge of making your own by purchasing grape filling from a local retailer.  
Bonus: Monica's isn't the only one perfecting Grape Pie. You can grab the treat at Arbor Hill Grapery & Winery, Cheshire Farms Creamery, Jeni's Pies, Joseph's Wayside Market and the New York Kitchen, among others. Or plan your visit around the weekend-long Naples Grape Festival and immerse yourself in all manner of grape-y goods around the grape harvest.
If the name didn't give it away, this fresh local custard has all to do with the ducks. The frozen favorite is made with duck eggs from the flock of Ancona ducks raised right on the property! Using only organic ingredients, and steering far, far away from things like corn syrup and artificial flavoring, Spotted Duck offers unique flavors of their gourmet custard, like Black n' Blue (blackberry and blueberry), Hot Mud (dark chocolate with jalapeno), Chai Tea (six spices, black tea and house-made vanilla), and even Squashed (roasted butternut squash with maple syrup and walnuts). Since we know you'll have a hard time choosing – we've got good news! Spotted Duck offers their ice cream in a flight, so you can try all 12 flavors, or narrow it down to your top four.
These are no ordinary pancakes – the flapjacks at New Hope Mills are huge! Visit the café in Auburn, NY and create your own pancake meal. Choose from apple, cinnamon, banana caramel or blueberry pancakes and top with sprinkles, peanut butter, local ice cream or pure maple syrup – just a few of the many, many options available. If you love what you order and just can't get enough, browse the store afterward. New Hope Mills sells its pancake mixes and toppings right on site.
Bonus: When you stop in, take note of your surroundings. The historic mill, built in 1823, is on the National Register of Historic Places.
In the Finger Lakes, at the base of Lake Ontario lies Wayne County, NY. The county is the largest apple producer in New York State – so it's no surprise that at least one apple dish tops our list! In the fall, head over to Lagoner Farms and try the apple dumpling. Made with locally grown apples, cooked up with cinnamon, and filled into a crisp and crumbly pastry – this dessert is a true taste of fall.
Bonus: Pair it with a glass of hard cider (seasonal Apple Pie Cider, anyone?) from Lagoner Farms on-site taproom, Embark Craft Ciderworks.
And on the savory side:
The Skeeter is, in essence, a burger. But when you really dive into the dish, you'll find it's so much more. This burger is a combination of ribeye, short rib, and sirloin all mixed in together, topped with Swiss cheese, crispy bacon, lettuce, tomato, and mayo on a grilled roll. It's 8 oz. of flavor and so much more – their menu doesn't lie when it calls The Skeeter a "CRAZY GOOD BURGER!"
Bonus: Pair The Skeeter with breathtaking views of Keuka Lake. Bully Hill's Restaurant sits atop a hill overlooking this stunning, scenic Finger Lake.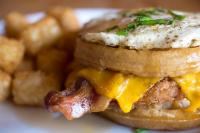 This classic combination has gotten a refresh at Brix Pubaria. First, they traded in traditional break for warm, fresh waffles to create the ultimate chicken and waffle grouping. Then, they tucked classic fried chicken blanketed with melted cheddar in between the two waffles to make the perfect handheld creation. Good for lunch or dinner, it's a meal not to be missed. On Sunday's for brunch, chicken & waffles gets an upgrade. Top the order with an over easy egg or add bacon to boost your brunch game.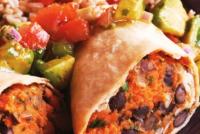 Celebrating its 45th year, there is no better place to get a delicious vegetarian meal than the Moosewood Restaurant in Ithaca, NY. While the restaurant itself is famous for its cookbooks, it's also well-known for its entrees – like the Black Bean Sweet Potato Burrito that sometimes makes an appearance on the menu. Just like the name suggests, the burrito is a plump and savory dish made with sweet potatoes, black beans, onions, cloves, hot pepper, cumin and coriander seeds. Topped with guacamole or zesty avocado salsa, it's a true culinary creation straight out of the Finger Lakes.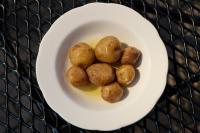 Salt Potatoes are a regional specialty of Syracuse, NY, which is also known as The Salt City. Dating back to the 1800s, they were invented by the local salt miners of the time (primarily Irish Immigrants), who would boil small potatoes in brine and eat them for lunch. Now, they are found all over the city – and anyone who has tried them knows we take our potatoes seriously. Fingerling potatoes that are smaller in size with a waxy coating are generally used for salt potatoes. When boiled the salty water forms a crust on the skin, sealing the potatoes up to create a fluffy, creamy inside that is so simple and perfect, it just can't be beat.
This west-coast style taco shop uses fresh ingredients to fill their signature So-Cal Style Street Tacos. It all starts with a house-made corn tortilla, hand-rolled to perfection. It needs to be too – so it can hold all of the tasty fillings waiting on the menu. Like the Pescado Baja – broiled fish, creamy chipotle slaw, pico de gallo, and lime. Or the Ancho Chili Shrimp – seasoned shrimp with pineapple salsa. Or the Carnitas Raja – braised pork, sautéed poblano, red peppers, and green onions smothered in a creamy, cheesy Mexican crème. Any way you choose to craft your taco, you'll be leaving with a full belly and a great appreciation of the care put into the food at this creative little taqueria in Tioga County.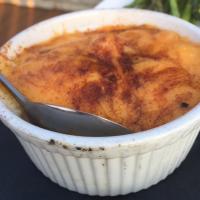 Hill Top Inn in Elmira has been a favorite gathering place since opening as a lodge in 1933. Owned by the Sullivan family for three generations, this popular eatery has the distinction of holding the longest continuously held liquor license of any restaurant in New York. But locals also know that there's no better comfort food to be found than Hill Top's au gratin potatoes. While a seemingly modest side dish, the recipe has remained unchanged for 85 years and is as popular today as it was when served during the height of the Great Depression. While the actual recipe remains closely guarded, you're guaranteed to find plenty of milk, cheddar, butter, potatoes and comfort in every bite.
Bonus: Hill Top Inn is the only place in the world you can eat while overlooking the same views that inspired Mark Twain. Yep, the author summered and wrote his classics right up the road.
Connie's Quickie is a classic in the heart of the Finger Lakes. Take a cheeseburger and French fries, top it with gravy, and voila! you've got simple, savory, perfection. Wash it down with a homemade chocolate malt milkshake, and you'll have trouble getting out of the booth! Connie's Diner is a tried and true 1963 diner, with quick service, good food, and popular prices.
Halibut Po'Boy from Junebar
301 N Franklin St, Watkins Glen, Ny 14891
Schuyler County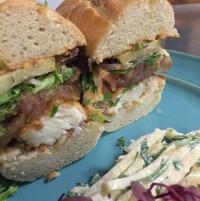 New to the dining scene in Watkins Glen, NY, Junebar is a new American dining and cocktail experience, pairing exciting custom drinks with fine dining from locally sourced ingredients. One of those creations includes the Halibut Po'Boy – crispy fried halibut, heirloom tomato, dressed shredded local greens and shallots, dill pickles, and chorizo mayo on French bread. Served on the side is a celeriac apple slaw – a fresh way to dive into the local flavors.
Bonus: Pair your meal with any of Junebar's custom cocktails – like the "White Tail Deer," named after the animal that resides at the Seneca Army Depot just a short drive away. 
The Garbage Plate from Nick Tahou Hots
320 W Main St, Rochester, NY 14608 (and various other locations)
Monroe County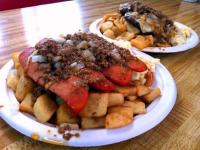 It may not sound appetizing, but the garbage plate is indisputably a Rochester favorite. Created by Nick Tahou more than fifty years ago, this dish is a mish-mash of meat, fries, salads and sauces for a delicious and daring dish that will have non-locals wondering what's up. While you can craft your own, the classic plate includes home fries, macaroni salad, baked beans, onions, meat sauce, and Nick Tahou's hot sauce. The foods are piled one on top of another, and eaten as one, very sloppy, very flavorful bite.
Bonus: Loosen your belt. Health.com named the Garbage Plate the fattiest food in New York State.
If you've never been to the Finger Lakes or are a local looking to try something new, these 14 dishes are a good place to start. We've only got one word for this list – YUM!