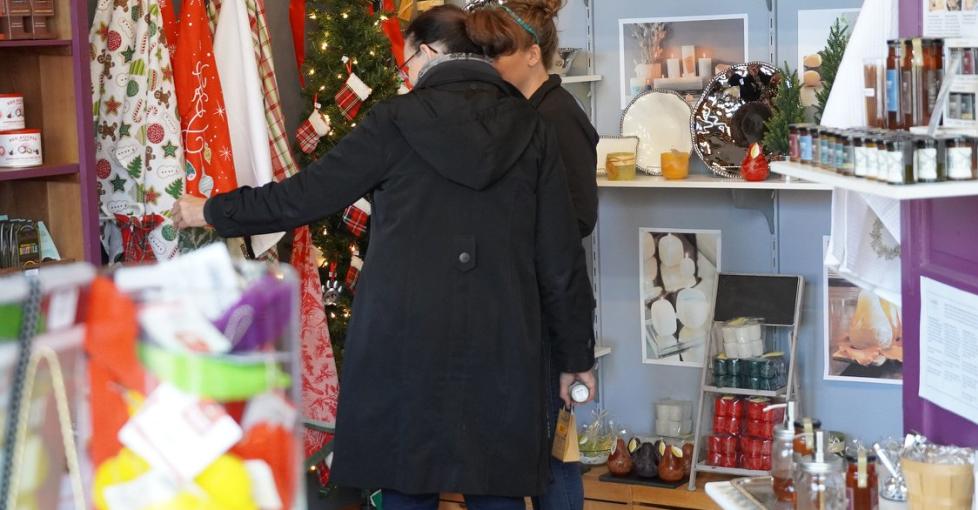 'Tis the season to give and receive! If you're looking to skip the big box stores and online retailers, and put your money to work in small communities, the Finger Lakes is the place for you. With hundreds of small businesses lining our country roads and village Main Streets, you can feel good knowing your purchase makes a difference in the lives of those in the community. We've rounded up stores from each of our 14 counties so no matter where you are in the region, you can shop small this holiday season!
Cayuga
This adorable u-pick hydroponic strawberry farm is just waiting to welcome you. Although u-pick produce ends with the first hard frost (but it can go as late as October), their farm store is bursting with delicious local goodies and charming seasonal décor. You can sample the honeys, oils, dressings and dips before you buy, and with so many unique flavors to choose from, you just may want them all!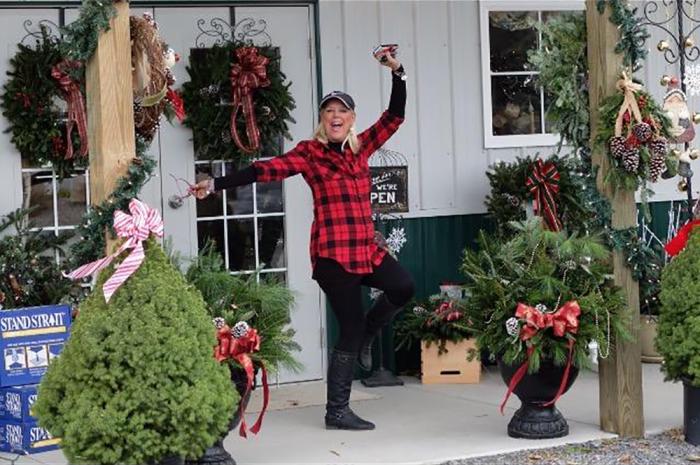 Photo provided by TourCayuga
Chemung
Welcome to the largest antique store in the state! Here you'll find an unparalleled selection of antiques and decorative art from around the world. With thousands of items dating from the 18th through 20th centuries, there are hidden gems waiting to be discovered around every corner. New items arrive weekly to update their selection of authentic first-finish furniture, lighting, oriental rugs, art glass, art pottery, fine porcelains, paintings and prints, Orientalia, clocks, silver, sculptures and decorative arts.
Photo from Antique Revival Facebook
Cortland
Since 2013, Cinch Art Space has been the place to go in Cortland for handcrafted and entirely local one-of-a-kind gifts, functional and fine art. Everything there has a story – from the artwork to their shop. Located in the 150-year-old Cortland Corset Building, it was once a working factory that has now been repurposed with spaces to incubate artists and establish an art hub in Cortland. After you browse the offerings at Cinch, head out into the rest of the building to discover yoga studios, massage therapists, custom tailoring and fiber arts companies.
Livingston
Located on Main Street in the quaint village of Geneseo, the Not Dot Shop was founded with a simple mission to reuse, repurpose and recycle more. The name is an acronym for "no one thing does one thing" and inside you'll find how exciting repurposing can be. It's also a local co-op, so each member is an owner and takes pride in their space. The store offers a variety of items from pop can top bracelets, valuable antiques, home furnishings and personally made items such as jewelry, scarves, wine charms and even sweet treats.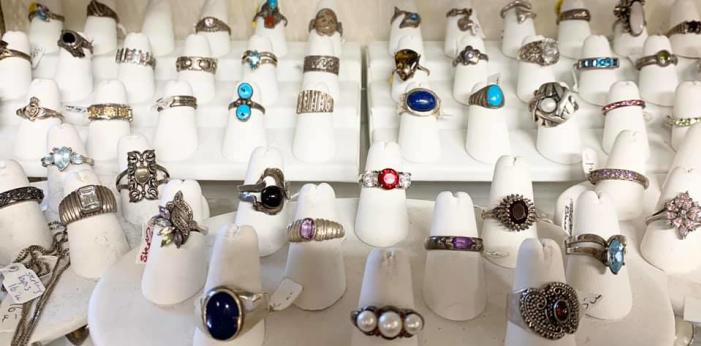 Photo from Not Dot Shop Facebook
Monroe
Best described as a "highly compact, alternative department store," Archimage has been a staple in downtown Rochester since 1983. The store gets its name from an old English word meaning "Great Magician" – and it's fitting! Don't let the size fool you, the diversity of products here is unparalleled. Shop everything from clothes and home décor to crystals and alternative healing methods as well as house plants, jewelry, toys and more. Bonus- most of the products in the store have an emphasis on fair trade and sustainability.  
Onondaga
Metro Home Style boasts "necessities redefined." This award-winning store has been featured in Home Accent Today magazine "50 Retail Stars" list, and on Gifts & Decorative Accessories magazine list of "25 Gifted Retailers."  Browse a carefully edited selection of home accents, accessories and specialty items, including many fair-trade and made-in-USA gifts. With dogs welcome, complimentary gift wrapping, free local delivery and free shipping on web orders of $35+, this store makes all of your holiday shopping a breeze.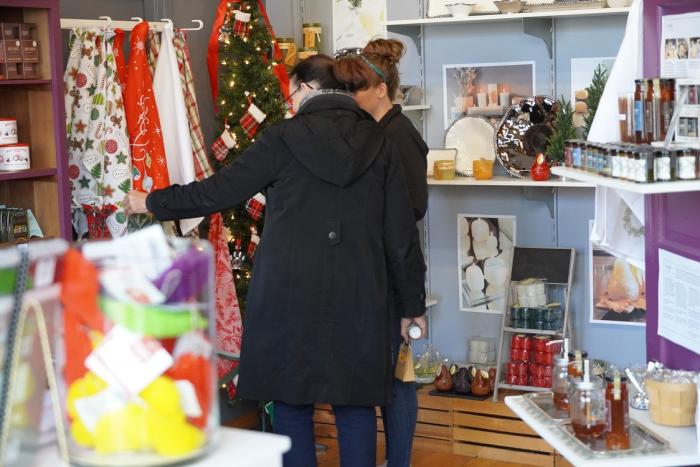 Photo from Metro Home Style Facebook
Ontario
Shopping for man's best friend has never been easier! Bad Dog Boutique offers a huge selection of dog products and gifts for both dogs and humans. The products include local and national brands that offer exceptional quality. Best of all, the shop is a division of the Ontario ARC and it's a first-of-its-kind social enterprise offering an integrated working environment for people of all abilities.
Schuyler
The Colonial Pottery & Creamery
This pottery studio meets retail store meets ice cream parlor is a truly one-of-a-kind stop. Located just a block from Watkins Glen State Park, you can grab a homemade regular or vegan ice cream before shopping the Earth & Autumn Pottery showroom or commission a unique pottery piece. They also showcase a number of other local retailers, including raw honeys, hand-crafted soaps, cutting boards, wine flour and more.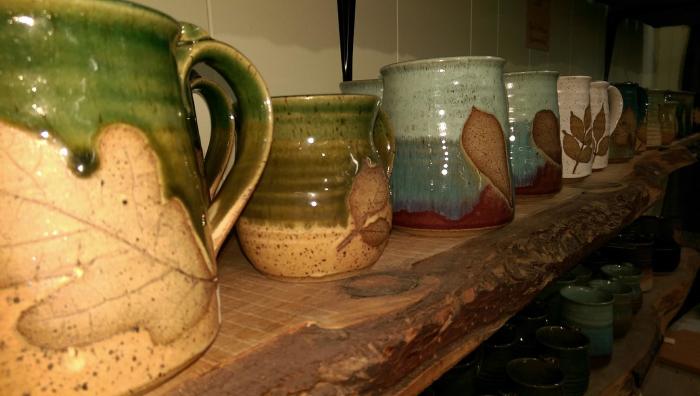 Photo from Colonial Pottery & Creamery Facebook
Seneca
As the birthplace of women's rights, it's only fitting that Seneca Falls is home to WomanMade Products, which carries goods that are made or inspired by women. The store is steeped in social responsibility, including choosing products where the sales benefit socially responsible groups. What started as a t-shirt printing business has grown to be a collection of women's art and craftwork. From apparel to home décor, there's something for everyone here- not just women!
Steuben
When in Corning, you'll want to shop all things glass. At the Hands-on Glass Studio, you can shop unique glass gifts made by the in-studio artists, or you can create your own glass piece! Blow a special ornament, pumpkin or paperweight to take with you or give as a gift with a unique personal touch.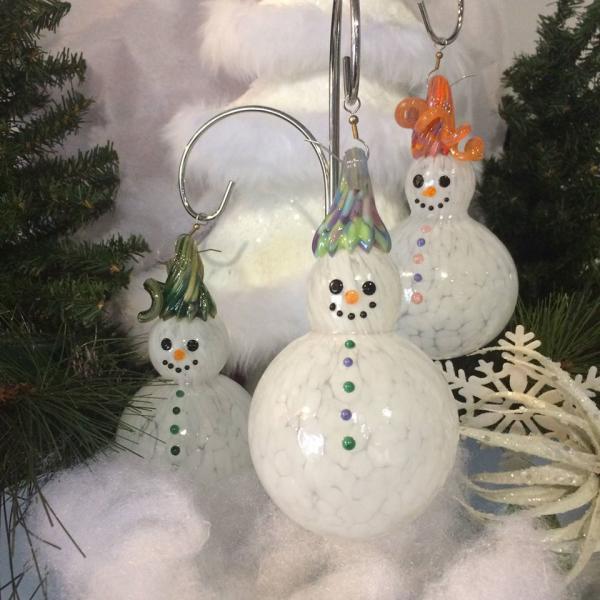 Photo from Hands-On Glass Facebook
Tioga
This is not your grandparents' antique store! Home to an eclectic mix of antiques and hand-made goods, this artisan co-op houses two floors with over 60 vendors, so it's easy to find an artisan with a style you love. Browse collectables, military items, re-purposed furniture, jewelry, vintage toys, barware, arcades, jukeboxes and hand-made goods with new products coming in every week.
Tompkins
Petrune brings antiquing to a new level with an exceptional collection of vintage and modern clothing. With options starting in the early 1800s and going all the way to modern times, each piece here has a story to tell. Their inventory is carefully curated from estate sales, auctions, and in-store customers who have family heirlooms that they hope will find a special home. Mix and match modern and antique pieces for a style you can't get anywhere else!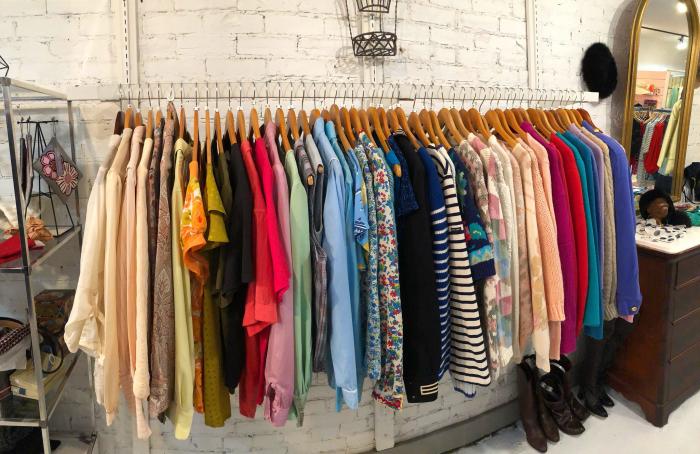 Photo from Petrune Facebook
Wayne
64 Main Street Trading Co. is where trends meet timeless design. With a wide selection of clothing, home décor, furniture and more, the inventory rotates with the season so there's always something new to uncover. Products range from national brands to local artisans so you can feel good about supporting the community here.
Yates
The Keuka Candy Emporium has one goal- to make everyone feel like a kid in a candy store. Reminiscent of a candy store in the 20th century, barrels and barrels of candy await you. Get nostalgic and take a trip down memory lane with choices like Necco Wafers, Mallo Cups, Double Lollies, Sponge Candy and more. Craving something chocolate? Their artisan chocolate case or homemade fudge will fix that in a flash. There's also cotton candy, roasted nuts and Hershey Ice Cream – so your sweet tooth is never left wanting!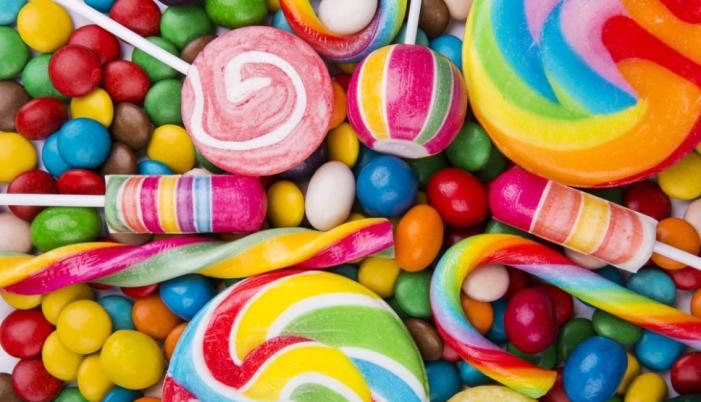 Photo from Keuka Candy Emporium Facebook