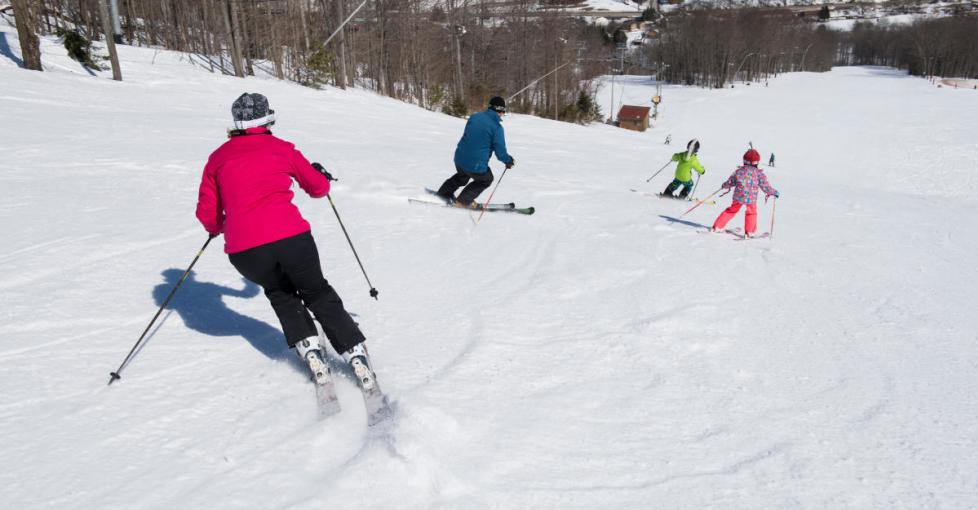 It may be winter in the Finger Lakes, but that doesn't mean you have to stay inside until spring! Outdoor activities are a perfect way to get some fresh air and sun while remaining socially distanced. We've compiled a list of some of the fun things you can do all winter long across the region. So bundle up and get outside!
Cayuga County
This time of year provides a unique opportunity to see winter wildlife. The Montezuma National Canal Heritage Park is a great place to go birdwatching. You can pick up a birdwatching guide, "For the Birds" at the park's High Street and Chapman Road kiosks or from the Cayuga County Office of Tourism to help you spot the seasonal creatures found throughout the marshland and deep woodland areas. The Park also provides scenic trails leading to the Richmond Aqueduct that can be walked, biked or even skied!
Chemung County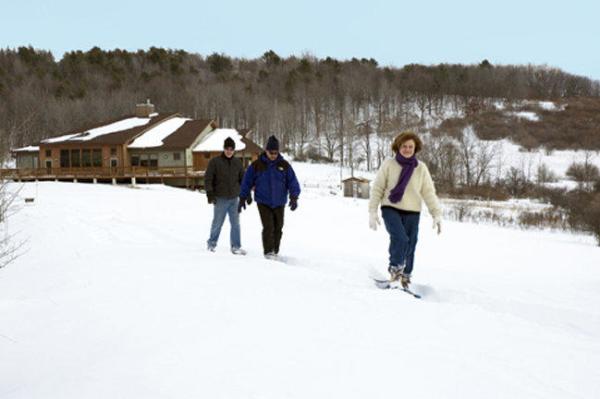 Photo from Tanglewood Nature Center
The Tanglewood Nature Center in Elmira, NY is home to beautiful sights… especially in the snow! While the Nature Center is currently closed, the trails remain open to the public for free. There are two separate trail systems, Gleason Meadows and Personius Woods (their dog-friendly trail system), that are perfect for snowshoeing. If you don't have your own pair, snowshoes are available to rent in both kids and adult sizes.
Cortland County
Whether you are an experienced skier or going for the first time, Greek Peak Mountain Resort has something for everyone! Located in Cortland, NY Greek Peak is the largest ski resort in Central New York with 55 trails, six aerial lifts, two surface lifts, beginners' slope and more! In addition to cross country ski and snowshoe trails, Greek Peak also offers snow-tubing – available in 2-hour sessions – and the adrenaline pumping Mountain Coaster, which is open year-round. After a day full of snow fun, spend the night across the street at Greek Peak's Hope Lake Lodge with luxury condominium-style suites.
*Cover photo is of Greek Peak Mountain Resort, from Experience Cortland
Livingston County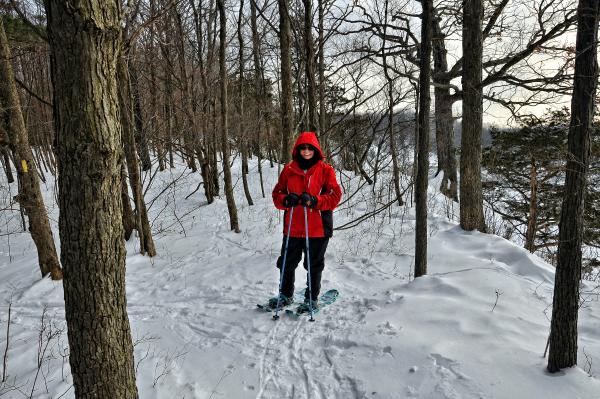 Photo by Larry Tetamore
Livingston County is home to one of the most magnificent landscapes in the eastern United States, Letchworth State Park, known as the "Grand Canyon of the East." With multiple trails throughout the park, you will find endless possibilities for winter hikes, snowmobiling, cross country skiing and snowshoeing. But one of the most exciting activities is to go sledding or snow tubing down their designated hills in the southern section of the park. Bring your own sleds and enter via the Castile Entrance for easy access to the sledding and tubing hills.  Bonus:  Entering the park is free during the winter season
Note: certain hiking trails are closed for winter. We recommend checking closure information before visiting.
Monroe County
If you're not much of a winter sports person, you may find joy in viewing outdoor art around Rochester, NY. Admire dozens of murals and statues reflective of Rochester's history and other local events scattered across the city. This is a great activity that is free, open to everyone, and can be enjoyed by driving, biking or walking. Read this roundup by Visit Rochester of their robust public art scene and then head out to hunt down these beautiful pieces.
Onondaga County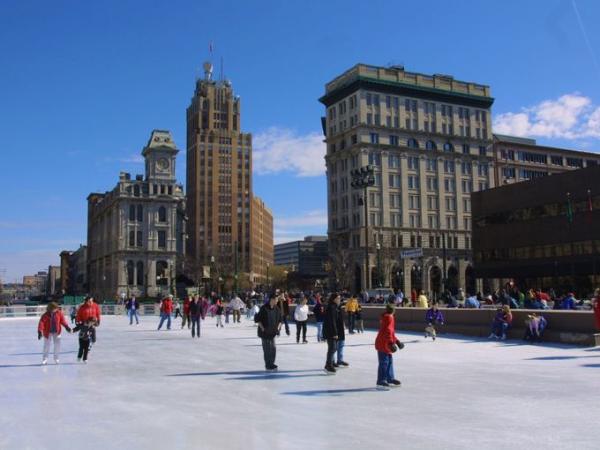 Photo by Wainwright Photography
Lace up your skates and hit the ice at Clinton Square Ice Rink! This outdoor rink in heart of downtown Syracuse is open through mid-March. This year, online reservations are required in advance. Skate rentals are available for $5 and may be reserved online or in person.
Ontario County
The Cumming Nature Center in Naples, NY is a great place to visit if you would like to ski or snowshoe. Associated with the Rochester Museum and Science Center, ski and snowshoe rentals are provided, as well as skiing lessons! If downhill skiing is more your style, head to Bristol Mountain in Canandaigua, NY for the highest vertical between the Adirondacks and the Rocky Mountains. Views from the summit and slopes are truly breathtaking and provide a variety of inclines from starter to expert.
Schuyler County

If you're looking for something unique to do this winter, head to Painted Bar Stables in Burdett, NY for winter horseback riding! Painted Bar Stables offers lessons, courses and beautiful guided trail rides along the landscapes of the Finger Lakes Region. Their experienced horses are expertly matched with riders to ensure a safe and fun ride for everyone.
Seneca County
Okay, this one isn't exactly outdoors, but still a wonderful way to spend a winter weekend. Seneca County is home to more than 20 different wineries and tasting rooms, ranging in style and personality. Winter is typically a more relaxing and intimate time to visit wineries.  You'll have the opportunity to learn more about the different types of wines offered.
Note: Most if not all wineries are asking for reservations for wine tastings. We recommend calling a winery before you visit.
Steuben County
If you don't already know how, now is a great time to learn how to ice skate! The Nasser Civic Center Ice Rink in Corning, NY is open through March for City of Corning residents and non-residents, and provides a fun, family-friendly skating experience. Skaters must pre-register for specific sessions (at least one day in advance), available in 90-minute increments.
Tioga County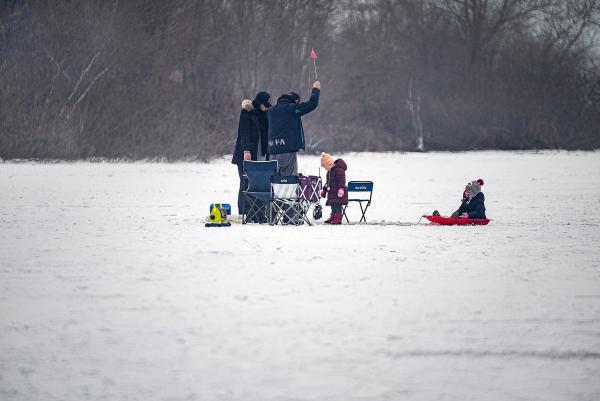 Photo from Pixabay
Tioga County offers a variety of locations to try your hand at ice fishing for panfish, walleye and rainbow trout – including Alexander Lake, Tri-County Pond and the Susquehanna River. If you're new to the sport, we recommend reviewing the ice fishing basics and safety tips provided by the Department of Environmental Conservation.
Tompkins County
Ithaca and Tompkins County is famous for their waterfalls… as the saying goes, "Ithaca is Gorges." And lucky for you, waterfalls are truly spectacular all four seasons! To get started, view this post of 5 waterfalls to visit in the winter provided by Visit Ithaca then tie up your boots and take a hike to a waterfall (or two).
Wayne County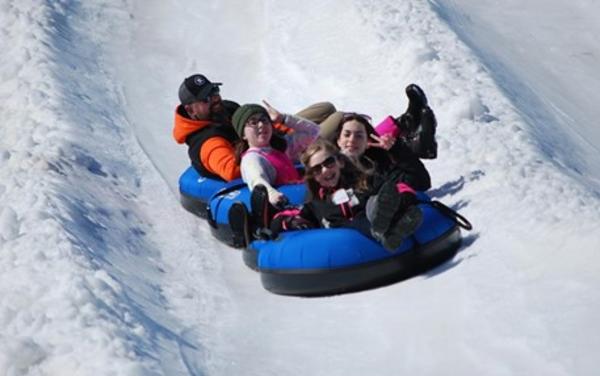 Photo from Greystone Tubing
Winters newest "cool" spot is Greystone Tubing in Walworth, NY, where you'll find a state-of-the-art 10-lane, 1,000 foot snow-tubing run open both day and night. The best part: No need to drag your tube up the hill each time… Greystone Tubing features power lifts, which means more time is spent having fun! Online reservations are required and can be made up to 10 days in advance. After a day of tubing, warm up at Stoney's Pub, the on-site restaurant and bar.
Yates County
The Keuka Outlet Trail runs between Keuka and Seneca Lakes, connecting Penn Yan, NY and Dresden, NY. Along the six-mile trail, you can enjoy a plethora of winter activities including hiking, snowmobiling and cross-country skiing. In addition to the beautiful scenery and several waterfalls, you may be able to see some winter wildlife sharing the trail.