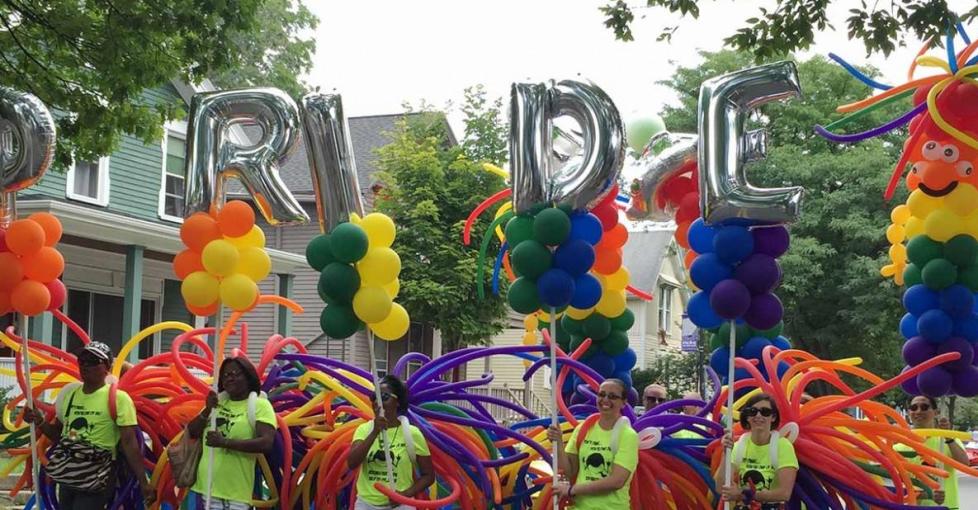 This year marks the 50th anniversary of the Stonewall Uprising - the LGBTQ community's response against police raids at the Stonewall Inn in New York City that acted as the catalyst for the modern gay rights movement. We've gathered Pride celebrations across the Finger Lakes Region throughout May, June, and July that will bring the fun, festivities, and sense of community!
805 Taughannock Blvd, Ithaca, New York 14850
On June 2nd, board the Rainbow Sunset Cruise to kickoff LGBTQ PRIDE Month in Ithaca. Part of the Ithaca festival, the boat ride features special appearances by Ithaca's very own Tilia Cordata and Veruka Dagger! Bring your own refreshments and enjoy music from DJ Gundz underneath one of Cayuga Lake's breathtaking sunsets.
25 South Street, Auburn, NY 13021
Participate in the Center's free social book club, Monday Nightcap Book Chat. On Monday, June 3rd, they will be discussing "Stonewall: The Riots that Sparked the Gay Revolution" by David Carter.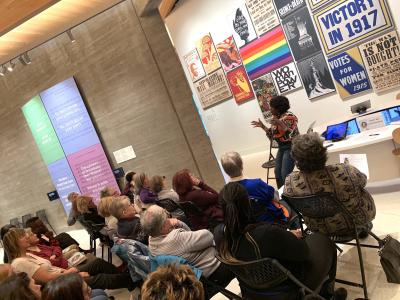 Photo by NYS Equal Rights Heritage Center & Auburn NY Visitor Center
82 Seneca Street, Geneva, NY 14456
The Smith Center for the Arts is celebrating Pride Weekend June 6-9 with a full slate of programming, including a concert and films that honor the LGBT community. Events include:
Thursday, June 6
7 p.m.: "Paris is Burning" screening
Friday, June 7
8 p.m.: Singing OUT Tour 2019 with Heather Mae and Crys Matthews. Heather and Crys are being praised as the new generation of social justice music-makers and will be at the Smith for an intimate experience for attendees.
Sunday, June 9
2 p.m.: "Stonewall Uprising" screening
7 p.m.: "Bohemian Rhapsody" screening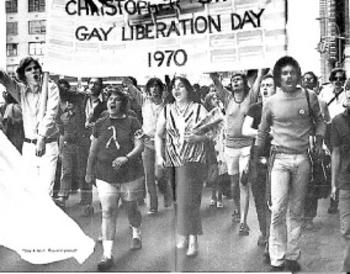 "Stonewall Uprising" Movie, provided by Finger Lakes Visitors Connection
Seneca Lakefront, Geneva, NY 14456
The annual FLX Pride Festival will take place on Pride Weekend in Geneva June 7–9. The weekend will be filled with entertainment and activities focusing on the diversity of the Finger Lakes region and celebrating the LGBTQ community. Events include:
Friday, June 7
4-5 p.m.: "Display Your Pride" Geneva Storefront Decorating Contest Judging (Sponsored by the Geneva Business Improvement District)
8 p.m.: Drag Bingo with Flora DeLis
10:30 p.m.-1 a.m.: Drag Show with the Ladies of Linden Street
Saturday, June 8
1-9 p.m.: FLX Pride Festival at the Seneca Lakefront
Sunday, June 9
11 a.m. - 2 p.m.: Drag Brunch at F2T Kitchen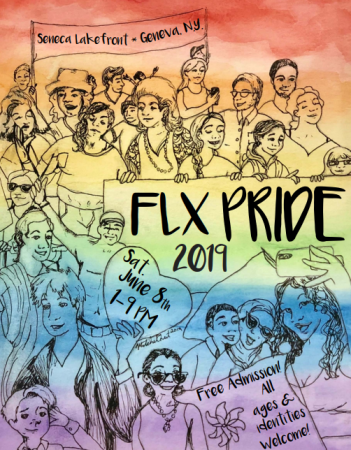 Photo provided by Finger Lakes Visitors Connection
Auburn PRIDE Week
Downtown Auburn will be celebrating PRIDE from June 22-30 with a variety of artistic and cultural events. To kick off the week, the Auburn Public Theater is hosting comedian Jen Kober on Thursday, June 20.
701 Taughannock Blvd, Ithaca, NY 14850
Finger Lakes Pulse is hosting their second annual Pride picnic on Sunday, June 23rd in downtown Ithaca. There will be games for all ages, great company, and the Ithaca Children's Garden will be open!
Ithaca, NY 14850
Bars and public spaces have been sites of LGBTQ resistance and resilience for decades. But many of the people and places that make up our history's shared past have been forgotten, erased, overlooked, or ignored. Students of Ithaca College along with Luca Maurer, director, The Center for LGBT Education, Outreach & Services created a LGBTQ+ walking tour throughout the city of Ithaca with 32 stops over 7 miles. The tour is available as a self-guided experience through the free app Pocket Sights, with options for users to customize their experience. 
On Saturday, June 22 during Ithaca Pride, there will be a special guided LGBTQ History Tour. The tour begins at 3:00 p.m., and will be led by the tour's creators who will offer their own reflections as the group proceeds to select sites in downtown Ithaca. Participants will learn about local, historic LGBTQ spots and happenings that played important roles in the community and nation. Register to reserve your spot on the tour.
Visitors can search Purple Roofs for gay and lesbian-friendly accommodations across Tompkins County.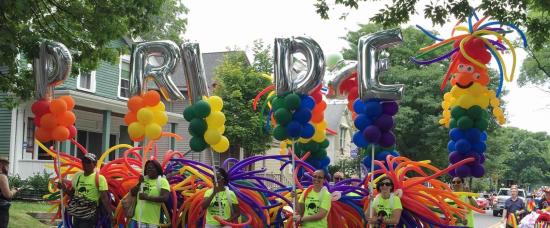 Photo by Official Rochester, NY Pride
100 College Ave, Rochester, New York 14607
The second largest Pride celebration in New York State, Rochester's Pride Week runs July 13-21, 2019 with a full schedule of fun activities, including:
Saturday, July 13
11 a.m. – 6 p.m.: Q Day at Seabreeze Amusement Park
Wednesday, July 17
6-7p.m.: LGBTQ Historic Walking Tour of Rochester's Monroe Avenue neighborhood
Saturday, July 20
1 p.m.: ROC Pride Parade. Come see your favorite community bands, floats, kings & queens, politicians, churches, community groups, and more march, sashay, roll, and waltz down Park Ave to this year's theme, "What is your Stonewall?"
1-9 p.m.: ROC Pride Festival at Cobb's Hill
Sunday, July 21
12-6 p.m.: ROC Pride Festival at Cobb's Hill