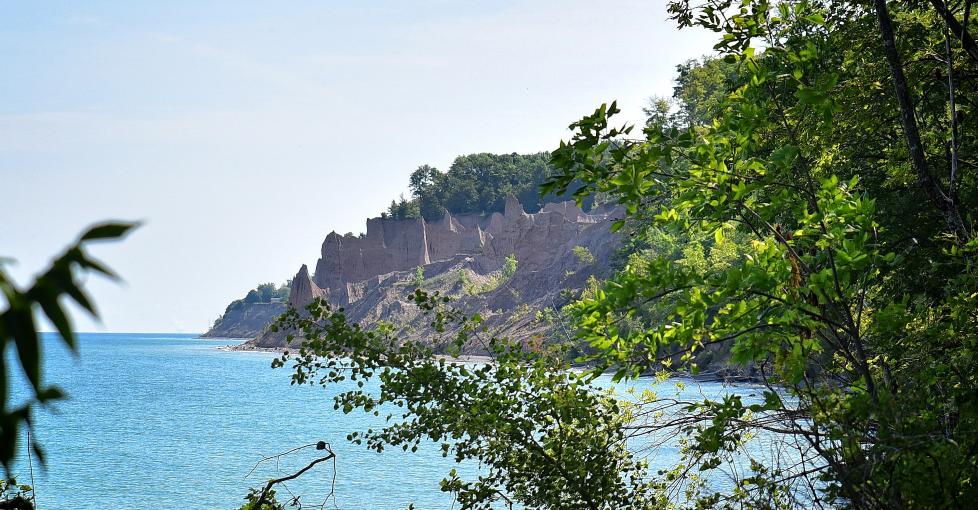 The Finger Lakes Region is known for its vast variety of outdoor activities, but since there are so many to choose from, it's hard to know where to start! This list will outline all the hottest spots for outdoor hiking, biking, walking and taking in the views, right here in the Finger Lakes. Once you see what the #FLX has to offer, you won't want to wait to start your outdoor getaway with us!
Taughannock Falls has so much to see, it has visitors wondering where to begin. At the lower entry to the park, take a dip in Cayuga Lake or hop on the Gorge Trail. This stroller/wheelchair friendly trail takes you through the gorge all the way to the base of the 215-ft drop that is Taughannock Falls. At the upper entrance, get an eagle's eye view of the falls and the gorge surrounding it. The upper entrance is also where two more trails begin – both of which are hiking and biking friendly. For more information once you are at the park, stop into their visitor's center (they'll also give you a lesson on how to say this tongue-twister of a name correctly!).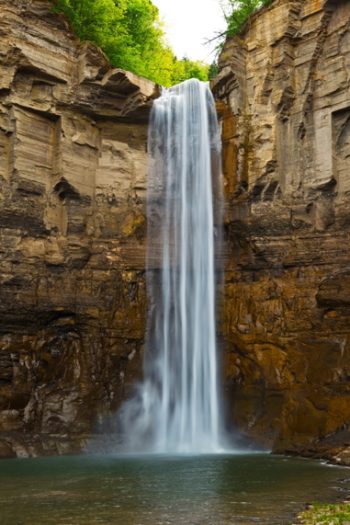 See sculpted spires and natural wonders at the base of Lake Ontario, with Chimney Bluffs State Park. Easy walking trails run past picture-perfect landscapes – you'll want to take your camera and capture it all. Pack a picnic lunch or plan a day of fishing, hiking, hunting, or snow sports to experience it all.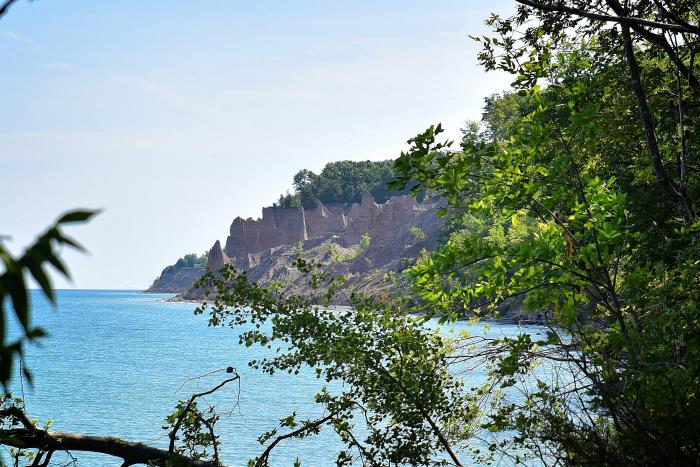 Grimes Glen is located in the small village of Naples, placed along the southwest side of Canandaigua Lake. The Glen is known for its cascading waterfalls and scenic hiking trails. But, be prepared to get your feet wet on this trail that crosses over the waterbed and eventually leads to a shallow swimming hole. This hiking spot is fun for all ages!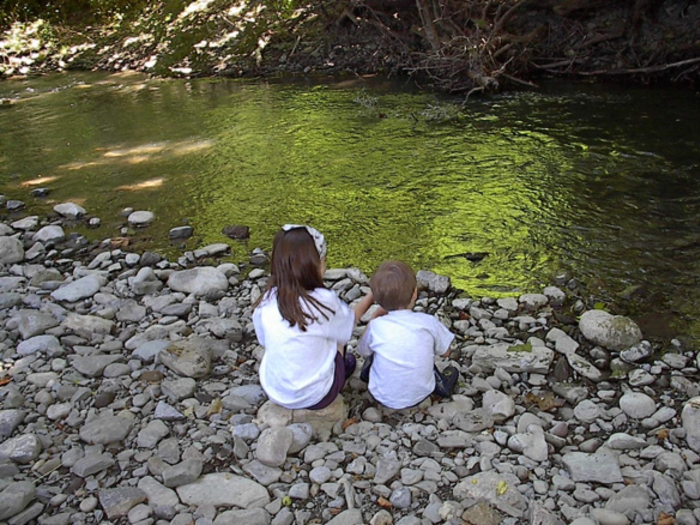 Over 600 miles of trails can be found in the "Grand Canyon of the East," our very own Letchworth State Park. Hike, horseback ride, snowshoe, bike, and traverse trails that run through the woods, past wonderful waterfalls and around a "gorgeous" gorge. Stunning in all seasons, Letchworth is a must-do for any true outdoor adventurer.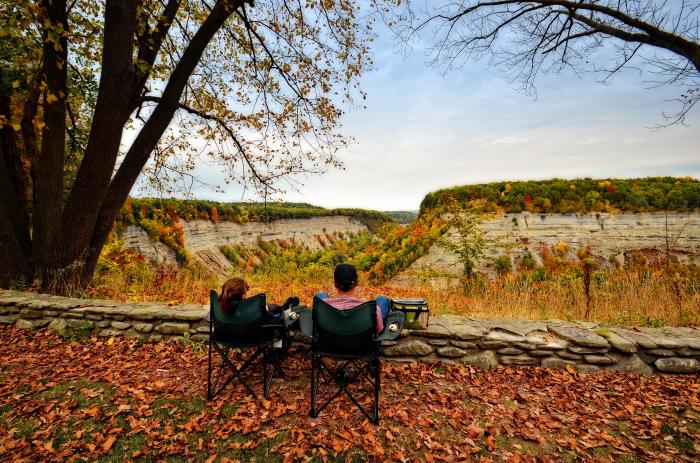 Photo by ©Larry Tetamore
Watkins Glen State Park has so much to offer for an amazing outdoor experience. The glen has a whopping 19 waterfalls along its path, some of which cross right over the trail where you are walking! Go over, under and through the waterfalls, and bring your camera to catch all of these scenic views. If one day isn't enough at the park, pitch a tent and camp here overnight. Watkins Glen has been known to leave its visitors spellbound, so come see for yourself!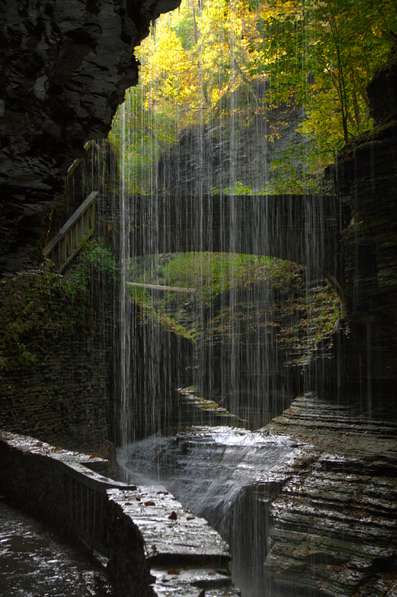 The Keuka Outlet Trail offers everything - fishing, hiking, biking, horseback riding, snowmobiling, and cross-country skiing. It runs seven miles long and borders the outlet between Keuka Lake and Seneca Lake, so scenic views are all around you. No matter what time of year, you will be able to have a fun outdoor adventure on this trail. Just pack the right gear and get going!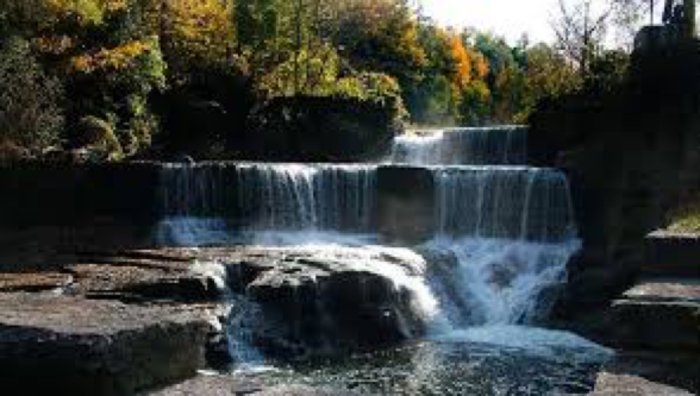 Take on a trail that spans across the southern part of our region and has been considered "New York's Premier Footpath Since 1962" – the Finger Lakes Trail! Choose a portion of the path to experience or tackle the full 580 and become an "End-to-Ender." The trail is perfect for day hikes, a weekend campout, or multi-day backpacking trip.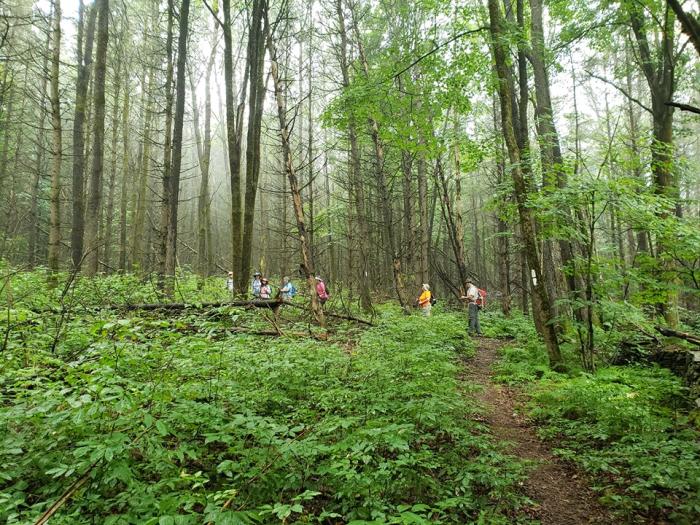 Photo by Finger Lakes Trail Conference
Stunning and scenic, this is just a small sampling of all that is available in the Finger Lakes! See the full list of trails, parks, and outdoor hotspots at: https://www.fingerlakestravelny.com/see-and-do/hike-and-bike/ and https://www.fingerlakestravelny.com/see-and-do/outdoor-activities/.