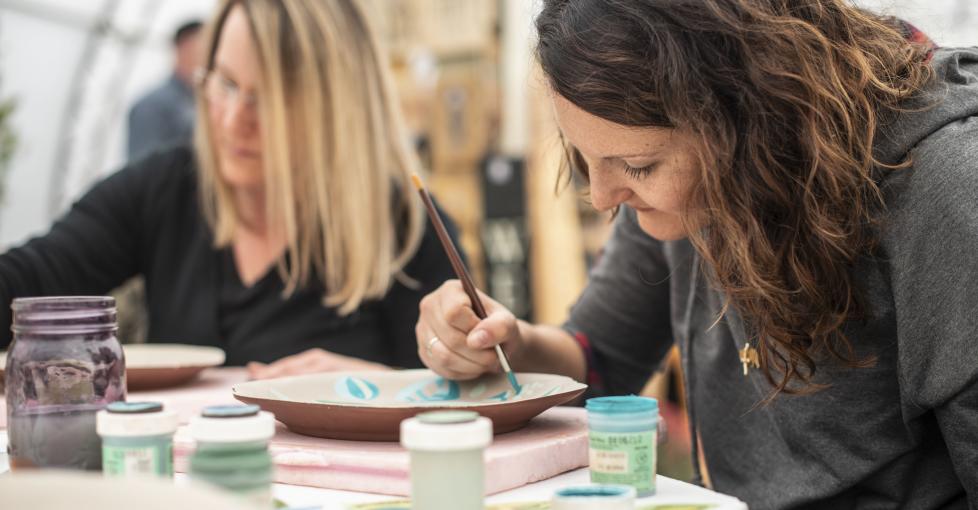 Souvenirs are a great way to remember a special visit or vacation. And when you craft and create your own souvenir, you go home with not only the keepsake but also the fun memories! Across the Finger Lakes, you will find plenty of fun ways to enjoy and experience the art of making your own personalized memento. We've round up a range of hands-on activities to make garden goods, cultural crafts, signature scents, craft beverages and more.  
Garden Goods
Participate in one of Chamberlain Acres Garden Center's two-hour workshops, offered on evenings and weekends, as well as during their year-round market on Sundays. Learn how to make your own hanging basket, wreath or fairy garden, or choose a class on plate painting, felting or working with gourds. Make it a girlfriend's getaway by gathering a group of 5 or more and arranging a private session of your choice. When appropriate, Finger Lakes wine and cheese is also served in the greenhouse!
Bring a little bit of Finger Lakes magic back home by attending one of the programs at The Artful Fairy Creative Studios. Their drop-in studio welcomes both kids and adults to make miniature fairy gardens, terrariums, wood signs or painted ceramic and wood pieces. After hours, they also host plant-n-party events for adults create gardens while making memories.
Wine & Blooms believes that gardening should be fun and accessible to everyone. Their educational sessions, DIY workshops, special events and private tours are meant to provide a memorable, lighthearted and supportive environment for people to have a great time gardening. Wine & Blooms combines their love of gardening with DIY crafts to offer pressed flower trays, resin flower coasters, goldleaf planters, botanical word art, watercolor and more.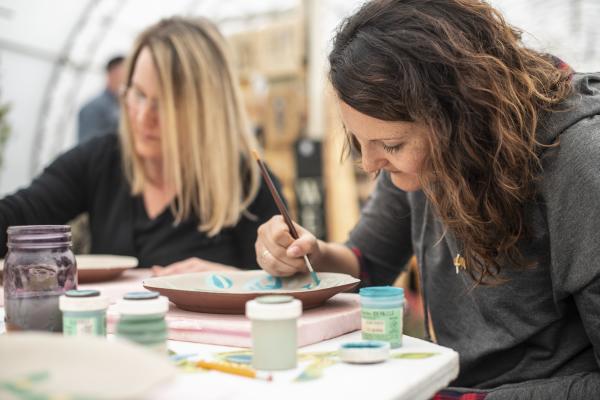 Chamberlain Acres Garden Center - Photo provided by Chemung County Chamber of Commerce​ ,/i>
Cultural Crafts
There's no better way to learn about the story of Haudenosaunee (Iroquois) contributions to art, culture and society than through a hands-on workshop at Ganondagan State Historic Site. Try your hand at cornhusk doll making during workshops held throughout the year or attend the annual Living History Event for hands-on demonstrations of traditional arts and food practices.
The Everson Museum of Art in Syracuse is home to an internationally recognized ceramics collection, housing some of the finest representations of modern and contemporary American ceramics in the United States. Feeling inspired by Everson's ceramics? Attend one of their Pottery and Pour events, where you will learn the basics of pottery as you hand-build your own clay creation. Enjoy light refreshments and adult beverages while you work.  
Known for its exhibitions featuring regional, national and international artists, The Schweinfurth Art Center is a non-profit gallery and multi-arts facility. The Art Center offers a wide array of art classes and workshops for children, teens and adults. Choose among open studio hours, series of classes or two-day workshops to create your own masterpiece or sign up for the multi-day fiber art workshops run by leading instructors from across the country.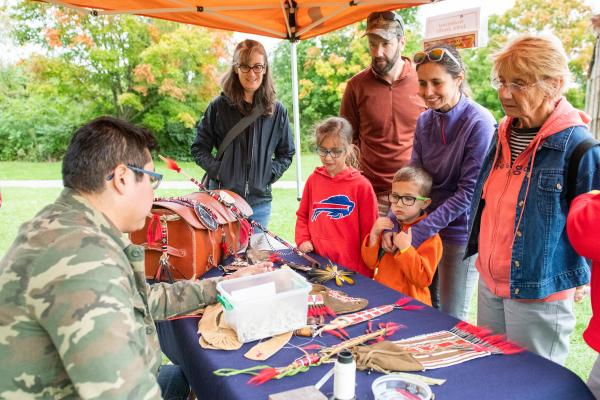 Ganondagan State Historic Site - Photo courtesy of VisitFingerLakes.com 
Signature Scents
Create a scent that is as unique as you at Seneca Signature Scents! Make your own perfume or cologne by choosing your favorite combinations of essential and fragrance oils. Their expert staff will guide you through the process of crafting a personalize scent. Stop in during regular business hours or schedule a private party for your friends and family.
Calling all candle lovers, Witty Wicks hosts a monthly scent-mixing class. Participants can work with 36 different fragrances to create their own custom-blended candle. Pick from an assortment of colors and styles of containers and centerpieces to match your personality. Classes are limited to 10 participants.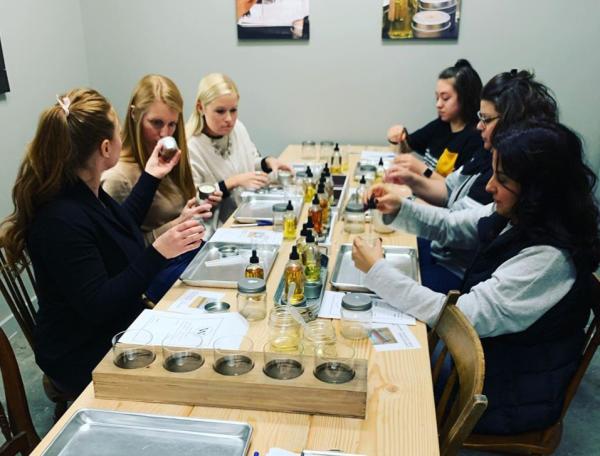 Photo from Witty Wicks Candles
Craft Beverages
Have you ever wondered what it takes to brew beer? See how the magic happens in transforming grain to wort to beer at IBU Brewery, a full production brewery. Each step of the process will be explained in detail and you will be part of it all! This extensive class includes 4 pints or flights, lunch, a half-gallon of the finished product and a day full of Q&A access with the craft beverage pros – making it a memorable experience for any craft beer lover!
Design and distill your very own gin from start to finish at Finger Lakes Distilling. The OriGINal Gin program allows groups to create a unique gin tailored to their personal tastes. Participants have a hand in every step of the process, from sampling and selecting the botanicals to running the original gin recipe on their "Wee Still" to applying the labels on the bottles. The end result? 40 bottles of the masterful creation! The program is meant for 1-14 people, making it a fun and unforgettable activity for friends, families, reunions and bachelor/bachelorette parties.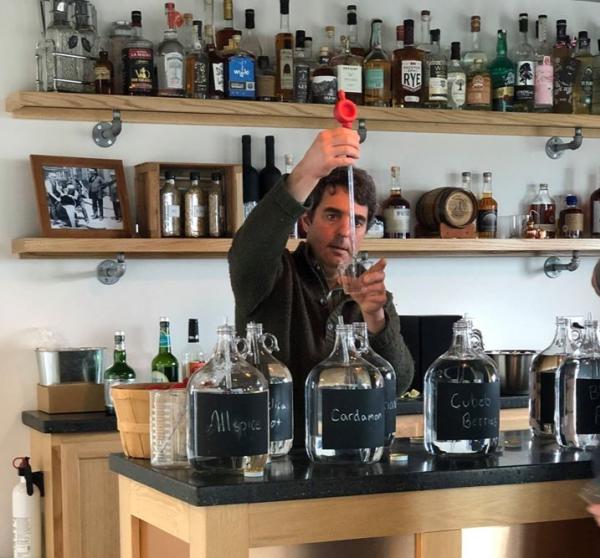 OriGINal Gin Workshop - Photo from Finger Lakes Distilling
Classes & Glasses
Hector Handmade is a Finger Lakes artist collective for makers and dreamers, opened by the owners in 2017 to encourage and nurture creativity. Let your creative side go wild by attending one of their workshops, held typically in the evenings or on the weekends for 5-15 people. The intimate and informal classes include scarf crocheting, macramé, natural dyeing, mandala painting, card making and more.
From delicious to design, Rochester Brainery is a community classroom with over 50 classes on an unrestricted variety of topics. Sign up for a single-session class to learn a new skill from local authors, actors, artists, chefs, graphic designers and distillers. There truly is something for everyone with events on wreath making, cake decorating, hand lettering and woodblock carving – just to name a few.
Make something you will treasure forever when you create your own glass keepsake at the Corning Museum of Glass. The hardest part is picking the project! Seasonal keepsakes include pumpkins, snowman pendants, heart paperweights and egg ornaments. Create beads and pendants with a flameworking session or build your own tic-tac-toe board using the fusing technique. Tickets are available for individual projects or you can sign up for group glassmaking at The Studio for events with 10 people or more.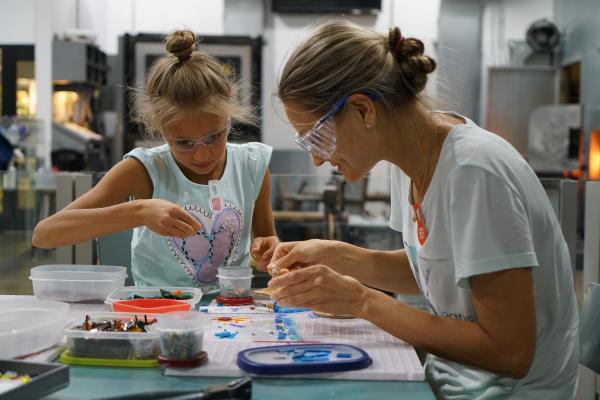 Make Your Own Glass - Photo by The Corning Museum of Glass