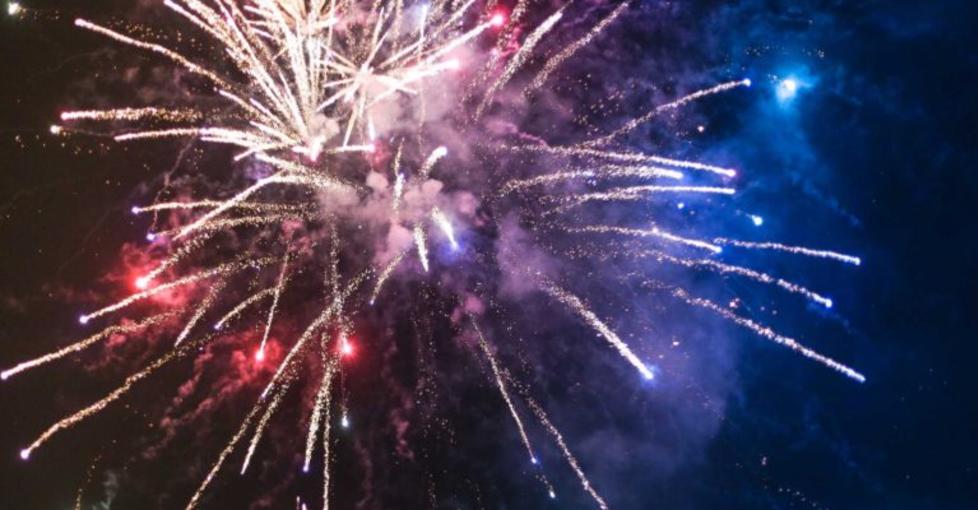 The Finger Lakes region has some of the best spots for viewing spectacular 4th of July fireworks. With five days of festivities spanning the region, you'll be sure to find the perfect celebration for you and your family. Upcoming fireworks displays include:
June 30
4th of July Fireworks in Watkins Glen (Watkins Glen, NY): Grab your lawn chair, your blanket, your family, and friends, and get ready to enjoy the Fourth of July fireworks display in Watkins Glen on Friday, June 30, sponsored by the Watkins Glen Area Chamber of Commerce. Fireworks begin at 9:45 PM in Clute Memorial Park.
July 1
Hammondsport Fireman's Carnival (Hammondsport, NY): A weekend of rides, food & games at the Hammonsport Fire Department. Fireworks celebration at dusk on Saturday night!
York/Leicester Field Days Celebration (Retsof, NY): Food, midway games, and children's rides at 7 PM. Fireworks display at dusk at York Central School (2578 Genesee St, Retsof, NY 14539).  July 2nd rain date.
July 3
Conesus Lake Ring of Fire (Lakeville, NY): Every July 3, the residents of the lake participate in a tradition called the Ring of Fire, sponsored by the Conesus Lake Association. They light road flares all around the lake and enjoy elaborate fireworks displays over the water. The festivities typically start at dusk, with approximately 10,000 flares lit by 10:00 PM. Visitors typically watch from Vitale Park off of Big Tree Road in Lakeville or Long Point Park off of Route 256 in Geneseo.

Conesus Lake Ring of Fire
Cortland County Fireworks (Preble, NY): Come out to Dwyer Memorial Park on July 3rd to kick-off the Independence Day celebrations! Catch the Old Timers Band at 6:30 PM at the pavilion, enjoy Hog Wild Catering barbecue, Skippy's ice cream, and Lulu's kettle corn. Top it off with the Fireworks to the tunes of X101.5's "Sky Concert" at 10 PM.
Farmington Fireworks (Farmington, NY): Fireworks at 9:45 PM at Kershaw Park.
Fireworks at Emerson Park (Auburn, NY): From 8:00 PM to 11:00 PM – live orchestra followed by fireworks at dusk. Rain date 7/9/17.
Fireworks in Fair Haven (Fair Haven, NY): Wall of Fire followed by Spectacular fireworks over Little Sodus Bay at 10:00 PM.
July 4
4th of July Parade and Field Days (Auburn, NY): Fourth of July parade at 2 PM, Fireman's Field Days from 11:00 AM to 7:00 PM with rides, vendors, food and live entertainment.
Annual July 4th Celebration (Brighton, NY): The city of Brighton will be celebrating Independence Day with a 5K race, pancake breakfast, live entertainment and fireworks at 10 PM.
Canandaigua 4th of July Celebration (Canandaigua, NY): Canandaigua is hosting its annual fourth of July celebration on Tuesday, July 4th and will include a parade on main street, food vendors and live music at the community picnic in Kershaw park and fireworks at 9:45 PM to conclude the evening.
Genesee Country Village's Annual Independence Day Celebration (Mumford, NY): The patriotic and spirited festivities that turned July 4 into America's greatest national holiday still flourish in this year's grand celebration of Independence Day at Genesee Country Village & Museum. Pageantry, marching bands and merrymaking are all part of the day's July 4th festivities, highlighted by the swearing in of new American citizens on the steps of the Town Hall. You won't want to miss this memorable moment as nearly 50 people from countries all over the world swear their allegiance to the flag. Ceremony begins at 11:00 AM.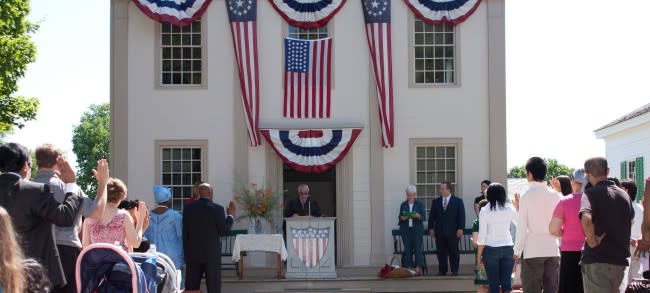 Genesee Country Village & Museums's Annual Independence Day Celebration
Independence Day Celebration at Honeoye Lake (Honeoye, NY): The Independence Day Celebration at Honeoye Lake will include fireworks commencing at 10:00 PM.
Lima, NY Fireworks (Lima, NY): Fireworks display at 9:45 PM at Mark Tubbs Village Park on Ziegler Drive, off Route 15A.
July 5
Fireworks at Falcon Park (Auburn, NY): Attend the 7:05 PM Auburn vs. Batavia baseball game at Falcon Park and stay for the fireworks display taking place immediately afterwards.