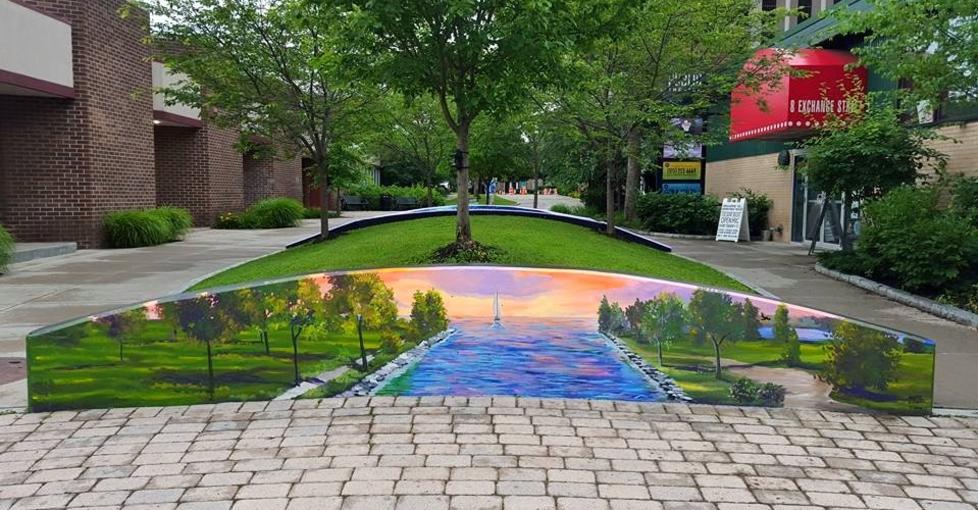 Bright colors, impressive details and touching messages – there is art and beauty all around us, if you just know where to look. Below is some of our favorite street art found throughout the Finger Lakes. We encourage you to appreciate these pieces through your digital devices and when the time is right, visit them in person and take a photo of your own!
Cortland, NY
It'd be hard to miss the 30-foot-tall mural on the Cortland Corset Building, located on East Court Street in Cortland, NY. The Cortland Corset Company Mural was Crystal Lyon's way to tell the story of Cortland's history through art. It features a woman wearing a corset, goggles on her head and artwork on her arms, standing in front of a large wagon wheel. The design was inspired by Cortland's industrial history, honoring the Cortland Wagon Company and the Cortland Corset Company that used to reside in the 150-year-old building and nodding to its current identity as a creative hub for artists, entrepreneurs and musicians. Check out their Facebook page for in-progress shots and the final piece.
This is just one artistic option in Cortland County. View this list for more, including a metal zoo and interactive art installations.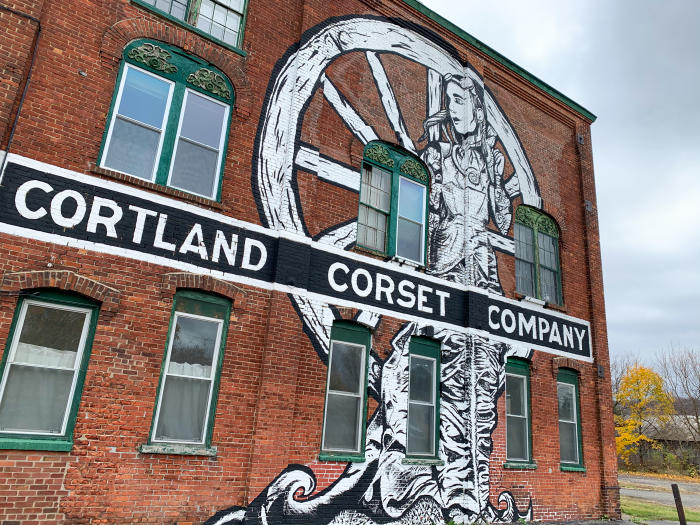 Photo provided by Experience Cortland
Corning, NY
Housed in Corning's Old City Hall, The Rockwell Museum has a strong presence in the local community. In fact, they created the Alley Art Project that works with local high school students to create stunning murals throughout the community inspired by The Rockwell's fine-art collection. The 2019 Alley Art Project mural, titled "Transcendence," is located at Carey's Brew House in Corning, NY. Inspired by the bronze sculpture "Harmony" by Tammy Garcia, this mural tells the stories of the student artists – representing challenges, choices, growth, transformation and potential. View this Facebook album to see the progression of the mural from start to finish.  
Scroll through past murals painted by the Alley Art Project and watch videos of the students involved on The Rockwell Museum website.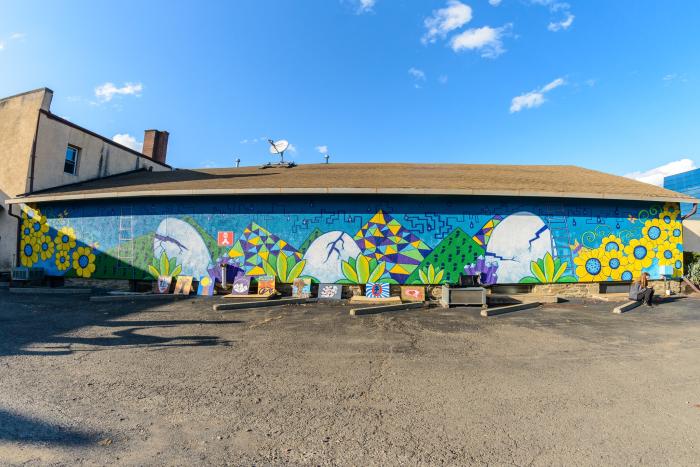 Photo of Transcendence from The Rockwell Museum Facebook page
Syracuse, NY
From visions of the Erie Canal circa early 1900s to colorful and inspirational messages reminding you to "Be Yourself," downtown Syracuse has a handful of murals covering concrete canvases. Take a self-guided tour through the streets of Syracuse or browse their list to admire these beauties from your home.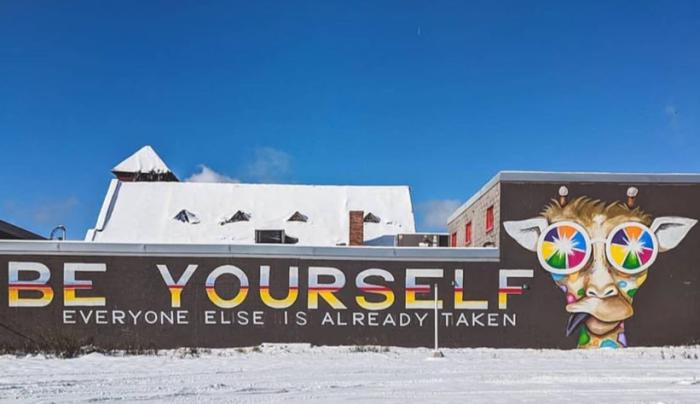 Photo from XO Taco Facebook page
Clifton Springs, NY
Labyrinths were designed as a form of walking meditation, enabling us to connect with our deeper selves in the midst of the busy world around us. The Peace Labyrinth, designed by Beatrice Barnett, is located on the grounds of the Clifton Springs Hospital, in Clifton Springs, NY. The Peace Labyrinth is all-encompassing of the number "7," with seven paths that lead to the center or goal. It is also completely flat, so it can be navigated by foot, walker or wheelchair.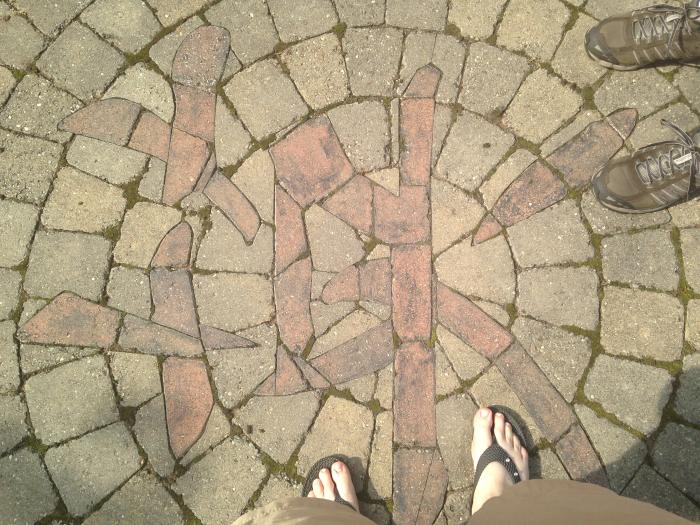 Photo provided by Finger Lakes Visitors Connection
Auburn, NY
Auburn's art community is vibrant – with outdoor mosaics, murals and sculptures scattered through its downtown. One eye-catching painting is the Exchange Street Plaza Mural, a labor of love created by a team of artists, project managers and community volunteers. The mural depicts Owasco Lake, Auburn's Finger Lake. Its two interior mosaics are painted with fluorescent paint and pay homage to Auburn's beloved crows.  
The Auburn Public Art Trail features over a dozen art pieces, including both individual and community joint projects. Photographs of the pieces, as well as videos of the artists discussing their inspiration are available on the Art Trail's website.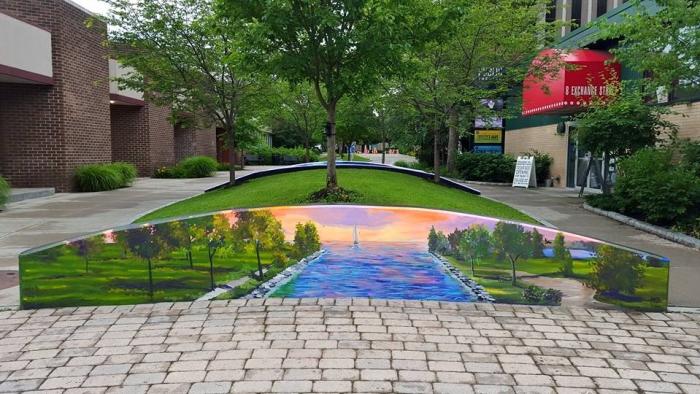 Photo provided by Tour Cayuga
Horseheads, NY
A visit to Mark Twain Country isn't complete without a picture with the famous author himself! Slide in next to a life-size bronze statue of Mark Twain, located on a bench outside of the Elmira Corning Regional Airport in Horseheads, NY. The sculpture greets people both coming and going and is the perfect spot for a photo!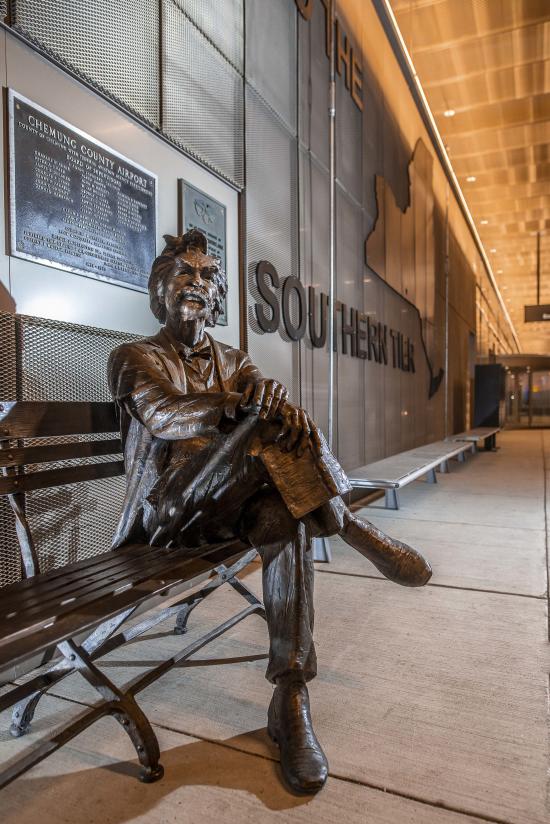 Photo by Lee Speary provided by Chemung Chamber of Commerce