Finger Lakes Pride: LGBTQ+ Friendly Stops
Acceptance, love, and hospitality. These are just some of the words that describe the feeling of visiting the Finger Lakes region. Our towns are home to some of the most amiable people, enriching activities, and vivacious experiences that everyone can enjoy. Take a look at this three-day, LGBT+-friendly itinerary to Rochester, Corning, and Ithaca.
DAY ONE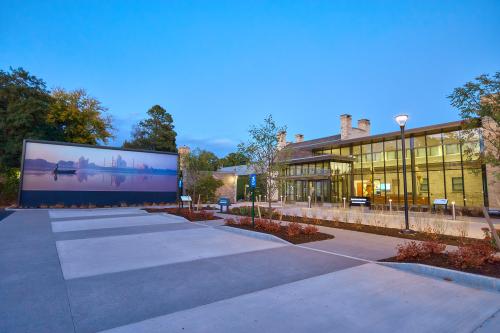 Welcome to Rochester! The place where Frederick Douglass established his abolitionist newspaper, and the home of suffragette Susan B. Anthony. Civil rights have always run through this city's veins. Rochester is one of the most progressive cities you'll find in the U.S, so it's no surprise that it was named one of the most LGBTQ-friendly places in Advocate's Gayest Cities in America list.
Start your experience in Rochester by immersing yourself in the art and history that lives in the city. Your journey begins at the Rochester Contemporary Art Center followed by the George Eastman Museum, the world's oldest museum dedicated to photography.
For lunch, head to Nick Tahou Hots where you can try the iconic Garbage Plate. Don't let its name fool you; the Garbage Plate, the ultimate comfort dish that's typically filled with meat, fries, beans, and more, has been recognized throughout the U.S. for its deliciousness.
After you've filled up on some grub, your next stop is the incredible Susan B. Anthony Museum and House, where you are able to stand in the place where she was arrested for voting in 1872.
There are so many ways you can spend the rest of your afternoon. If you're an old soul, you'll need to check out Record Archive where you'll find over 250,000 new and vintage vinyl records, a wide selection of Rochester-themed gifts, merchandise, vintage clothing and furniture. If you want something more hands-on, stop by Scents by Design for a pour-your-own candle and custom fragrance experience. Or, if you're traveling with children, the whole family will love The Strong National Museum of Play and the Seneca Park Zoo.
On tap is your evening at the theater. Take in the sights and sounds at the Rochester Broadway Theater League. We suggest that you pair your show with an upscale dining experience at Carnegie Cellars or The Gate House.
If you're looking to spend a night on the town, you'll be happy to hear that Rochester has a booming nightlife. Best loved LGBT+ friendly experiences include Roar Rochester, The Avenue Pub, and 140 Alex Bar & Grill.
For your overnight experience, you can find LGBT+ owned accommodations in Rochester at purpleroofs.com.
DAY TWO
Your second day can start with a hardy breakfast at Jine's or a quick stop for coffee and a breakfast sandwich at Equal=Grounds Cafe. Pack up the car and make your way to Corning, which was listed in last year's top 22 Small LGBT-Friendly Cities in the U.S.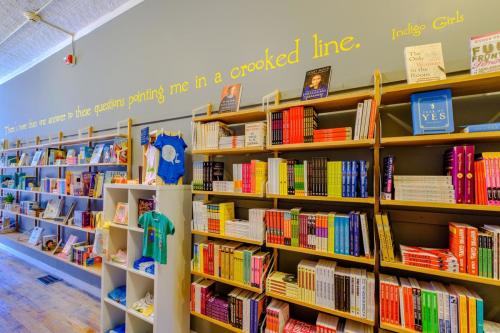 Of course, you can't go to Corning without dedicating a good amount of time to the Corning Museum of Glass. You will be mesmerized with all there is to do here: admire the 50,000+ objects, sit it on a contemporary glass working demonstration, and take home your own piece of art from a Make Your Own Glass session.
Afterwards, do some shopping at Card Carrying, one of two only feminist bookshops in NYS, then head across the street to get a sweet treat at the delicious and gay-owned Laura Belle's Bakery. If you're looking for something a bit heavier, you would enjoy lunch at Aniello's Pizzeria.
The Rockwell Museum is your next stop. The comprehensive collection here portrays the spirit, character, and values of America through the eyes of various American artists.
For an evening of adventure, spend time at the Park Ave Sports Center where you'll find mini golf, rock climbing, a driving range, laser tag, and more all in one place. Then, explore your options for dinner nearby.
Settle in for an overnight stay at the Hilton Garden Inn in downtown Corning. This great property has an amazing team who will make your evening comfortable and relaxing. Additionally, there are plenty of other nearby accommodations to choose from.
DAY THREE
Grab breakfast at your accommodation or stop at Soul Full Cup for some locally roasted and ethically sourced coffee. Hop in the car and start heading towards Ithaca, which was recently named in Advocate's magazine's "10 best cities for LGBTQ people with dining, arts, shopping, and nightlife".
If you're someone who enjoys spending time in nature, you'll find that Ithaca is an outdoor oasis. Breathe in the fresh air at Buttermilk Falls State Park and Taughannock Falls State Park where you'll be able to immerse yourself in your favorite experience with so many options to choose from: boat, canoe, hike, bike, swim, and fish in these peaceful, yet spectacular environments.  
For those animal lovers, Alley Cat Café is the perfect place for a light lunch with a side of cuddles from adorable (and adoptable) cats. Another great option is the Ithaca Ale House for signature burgers and 20 craft beers on tap.
While in Ithaca, you don't want to miss an opportunity to take part in the private tours that will give you a unique point of view of the Finger Lakes region. Southern Tier Balloon Tours lets you see Upstate New York from the sky in a safe and thrilling hot air balloon ride. To see the city on the water, Discover Cayuga Lake Boat Tours has you covered with over 10 themed cruises to choose from. Experience! The Finger Lakes is another great company that is ready to share the best of the Finger Lakes with you through wine tours and waterfall excursions.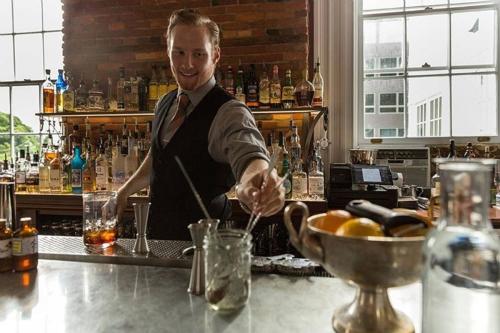 Something really special about Ithaca is the opportunity to take a self-guided LGBTQ History Walking Tour. Explore the city with 32 stops over 7 miles with highlights including the sites of the first gay student sit-in demonstration in the country, historic protests, and memorial gardens.
Round out the evening with outdoor dining at The Rook, located in the heart of downtown Ithaca. The city also has a lively night scene and many LGBT+ inclusive bars to visit. Check out The Range, Bar Argos, and The Watershed.
When you're ready for some shut-eye, stay at Rogues Harbor Inn, a gay-friendly inn 10 minutes from Ithaca, or search for other nearby accommodations.
For more resources, take a look at the I Love NY LGBTQ travel guide.