Outdoor Adventure for the Adrenaline Lover
Once the snow begins to melt, getting outside for a breath of fresh air is all that many of us want to do. If you're a major outdoor enthusiast, you've especially been yearning to get back outside, play on the adventurous side of things, and discover new activities that will give you that familiar rush of adrenaline. If that rings true to you, take a look at this 4-day custom itinerary designed for anyone looking for a bit of outdoor thrill this spring!
DAY ONE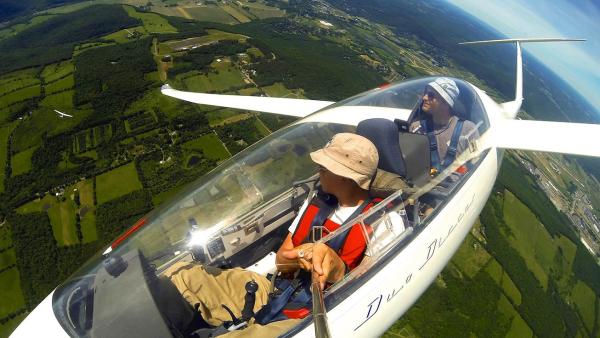 Start your adventure in the city of Elmira in Chemung County,  the "Soaring Capital of America". Head to the National Soaring Museum to see the Finger Lakes from a unique perspective as you glide in a high-performance sailplane (available weekends April through October; daily June through August).
Afterwards, spend time fishing on the Chemung River or golfing at the Mark Twain Golf Course.
You've worked up an appetite! Explore your options for lunch in Elmira.
After filling up on some delicious food, sit back and relax on a trolley ride into Mark Twain Country. Get some fresh air while learning about the place where Mark Twain once called home.
If you're traveling with friends or family, we recommend you head to the Harris Hill Amusement Park & Fun Center. Attractions here include an arcade, kiddie rides, mini golf, a pool, and much more. While there, check out the classic amusement park food and share some hot dogs or pizza for dinner.  
Whether traveling solo or with others, check out the Tanglewood Nature Center. There are plenty of trails there that are accessible to different levels. More experienced hikers may choose to follow the "Twain Trail". This trail runs parallel to steep cliffs, is known for its rocky footing, and promises a gorgeous view of the Chemung River. After your hike, enjoy dinner at Hill Top Inn, which graciously overlooks the Chemung Valley.
If you're really looking to take advantage of the outdoors, consider camping in Chemung County Park. Otherwise, you can find plenty of other accommodations to suit your needs.
DAY TWO
Start your day with homemade breakfast at the locally owned Maple Lawn Dairy and Restaurant. Then, load up the car and start your drive to Tioga County.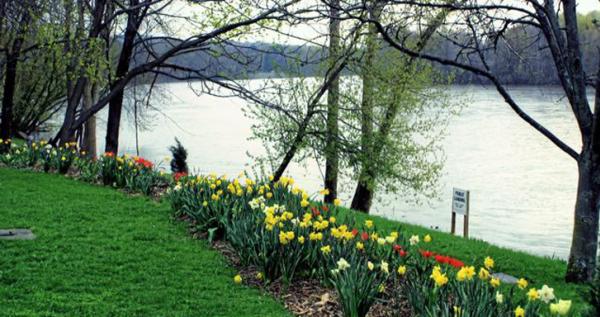 If you're a golfer, this is your paradise. There are multiple golf courses to choose from, but we recommend starting with Tioga Golf Club or The Links at Hiawatha Landing. If you prefer fishing, enjoy your morning angling along the Susquehanna River, the longest river on the American east coast.
Spend time in Waverly and grab lunch at Tomasso's Golf Course & Restaurant or Soprano's Market.
If you're bringing younger kids, you may choose to spend the afternoon at Waverly Glen Park where you'll find playgrounds, tennis courts, and hiking and biking areas. For all boating, hunting, and fishing needs, you'll want to check out Two Rivers State Park.
After your day in Tioga, hop back in the car and drive to Ithaca where you will find many options for dinner downtown and can catch up on sleep at a bed & breakfast or hotel.
DAY THREE
You're going to want to dedicate a full day in Ithaca.
Experience a wonderland of waterfalls, with 150 cascades throughout Ithaca and Tompkins County. For a fun and curated way to explore them, take on Visit Ithaca's Waterfalls Challenge, free to take on and prizes to earn by visiting a certain number of them.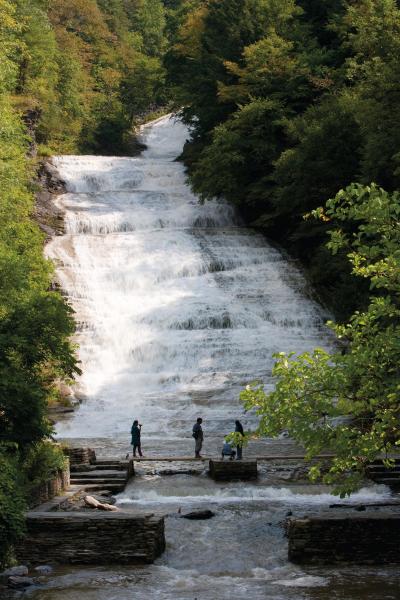 Begin your journey with a hearty breakfast! A suggested starting point for the day is The Coal Yard Café.
While you could spend days chasing all the waterfalls in Tompkins County, these two are a must!
In Ithaca, head to Buttermilk Falls State Park. Be sure to wear your best hiking shoes as you take a trek to find Buttermilk Falls, which stands at a whopping 165-feet high. Take the off beaten path as you explore Larch Meadows, a wetland area with a natural trail just beyond the playing fields and natural pool within the park.
Then head for Taughannock Falls State Park where you will find the stunning Taughannock Falls. At 215-feet, this waterfall is three stories taller than Niagara Falls! Follow the trails for gorgeous views from above the falls, then take a plunge in Cayuga Lake (if weather permits). You can also rent a kayak or standup paddleboard and spend some time out on the water, or you could grab your bait and treat yourself to a morning of fishing.
For lunch, on your way to Taughannock, stop by Glenwood Pines. Try their famous Pinesburger while you eat outside at the picnic tables overlooking Cayuga Lake.
You may have already decided that you're going to spend the rest of your day exploring all the other parks in Ithaca.
After spending the afternoon at Taughannock Falls State Park, enjoy dinner at Hazelnut Kitchen – reservations recommended – or Atlas Bowl, a funky restaurant and bar with some vintage lanes for bowling fun.
Return to your accommodation for the evening for some well-deserved rest.
If it's later in the spring or early summer, you may be interested in making the 40 minute drive to sit in the grandstands with a roaring crowd at Watkins Glen International. Check out their schedule of events to see when the next thrilling NASCAR Race will be.
DAY FOUR
Have  breakfast at your accommodation before heading out to Cortland County.
If you're looking for a slower start to your day, walk along the gorgeous 12-miles worth of trails at the Lime Hollow Nature Center, or play a round of golf at Elm Tree Golf Course.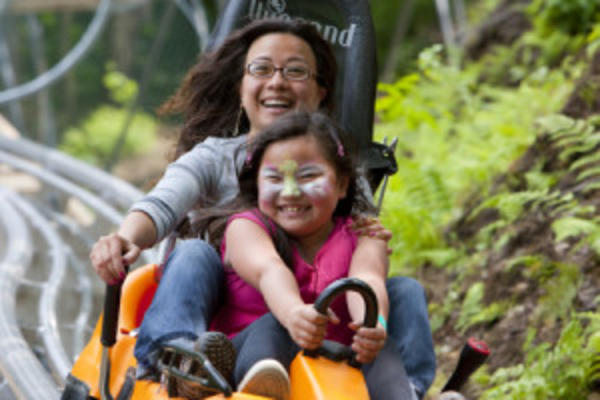 For some more intense activity, spend time at the Tioughnioga River. Feel the cool breeze and sunshine against your face as you canoe or kayak downstream.
If you're feeling hungry afterwards, stop for lunch at Hairy Tony's before heading to your final stop.
Greek Peak Mountain Resort is your final destination. This is a one-stop-shop for any thrill seeker. Ride down a gravity-fed mountain coaster, fly across the sky on a guided zip line tour, climb above the trees on the high aerial challenge course, and rush down the slides at their indoor water park. These activities require reservations, so be sure to purchase your ticket ahead of time on their website!
After all of you've done over the past few days, you can rest worry-free about where to go for dinner tonight. The resort offers diverse dining options right on site, so you can have a full dinner without even having to leave the property. Book your room at the resort now and start getting excited for all of the adventure awaiting  you!