Women's History
The Finger Lakes region is well-known for its engaging culture, renowned wines and, of course, its beautiful waters. But did you know that the Finger Lakes region is also rich with history tied to women's rights? In fact, the early stages of what would later become the Nineteenth Amendment – which granted women the right to vote – started right here!
This spring itinerary highlights destinations across four counties that are tied to women's history, as well as women-owned businesses you can patronize to show your support of today's innovators.
DAY ONE
If you're coming from Buffalo or Niagara Falls, start your trip with a visit to Clara Barton Chapter #1 House in Dansville or the Mary Jemison Statue in Letchworth State Park.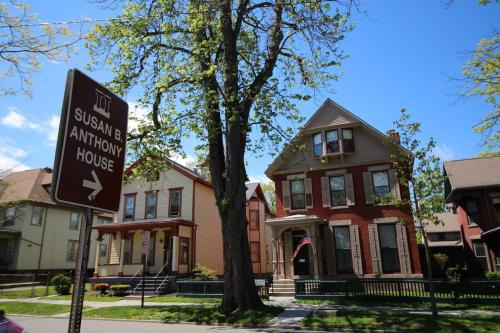 Upon arriving in Rochester, tour the Susan B. Anthony Museum & House where you'll learn about one of the founding mothers of women's rights. Her causes included abolition, suffrage, education and labor reform, and temperance. The Museum & House was formerly Susan B. Anthony's home, headquarters of the National American Woman Suffrage Association and the front parlor is the site of her famous arrest for voting in 1872.

Stop into the 1872 Café for lunch, where they're serving up dishes suited for any palate – from sandwiches and salads, to pizza and wings, to smoothies and vegan fare. Your immersion into Susan B. Anthony's world continues here, where you can see the actual ballot box where she placed her famous vote!

Take a self-guided tour of Mt. Hope Cemetery where you'll find Susan B. Anthony's final resting place. Gravesites of Frederick Douglass and Margaret Woodbury Strong (creator of what would become The Strong National Museum of Play) and many other notables, can also be found here.

Unwind with vino and snacks at woman-owned winery Living Roots, located in Rochester's Neighborhood of the Arts. Whether you choose to enjoy savory sips in their indoor tasting room or to get some sunlight on their outdoor patio, you're in for a pleasant afternoon!
As you drive to Seneca Falls, where you'll spend day two, you'll pass the Ontario County Court House where Susan B. Anthony was tried for breaking the law when she voted in the 1872 presidential election. You may also be interested in fitting stops at Ganondagan State Historic Site and Farmington Quaker Meetinghouse.
When you arrive in Seneca County, you'll have your choice of various accommodation options – from hotels, to inns and bed-and-breakfasts, to cottages and vacation rentals.
DAY TWO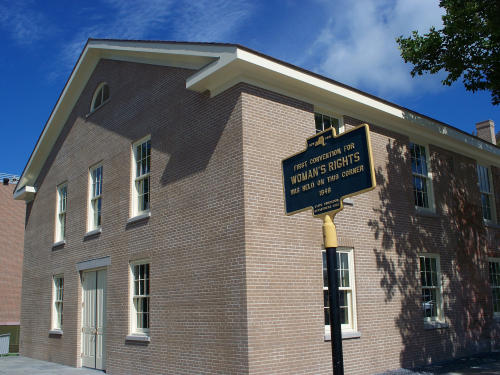 Enjoy breakfast at your accommodation or give Connie's Diner a try! This diner is women owned and has been a family business since 1989. The Caratozzolo family invites you to step back to the golden age of diners and enjoy quick service, good food and popular prices.
Get closer to the important work done by some of the Finger Lakes' most influential women when you visit the Women's Rights National Historical Park. This is where the first Women's Rights Convention was held, and the Declaration of Sentiments was read. You'll be standing on the ground that was the start of a major – and much-needed – shakeup in American history. While at the Park, you'll be able to visit the:
Visitor Center
Wesleyan Chapel
Waterwall at Declaration Park
Nearby, you'll find women-owned businesses Blush by CVDesigns and Woman Made Products; pay them a visit and show your support in these women's endeavors.
Visit the National Women's Hall of Fame, just across the water, to acknowledge women who have been making waves since the earliest of times. Their achievements span the areas of art, athletics, business, education, government, humanities, philanthropy and science – you may see some familiar faces and also be introduced to some new ones!

On your way to lunch, you'll pass the "When Anthony Met Stanton" statue, which depicts Susan B. Anthony and Elizabeth Cady Stanton being introduced by Amelia Bloomer. All three women were champions for abolition and women's rights, and this introduction would be a moment that would change the course of history as we know it!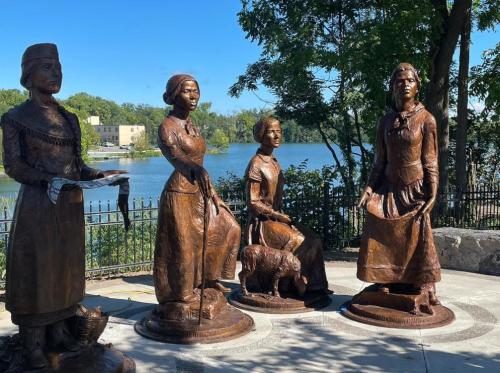 You won't find a more fitting place to have lunch than Café XIX – a local eatery inspired by the important history made in Seneca Falls and named after the Nineteenth Amendment. As you savor your meal, admire the portraits of influential women's suffrage activists like Lucretia Mott, Martha C. Wright and Julia Ward Howe.

Right across the street from Café XIX is the Ripples of Change sculpture. The monument features larger-than-life-size sculptures of four women who made significant contributions to the suffrage movement but were not as well known for it: Harriet Tubman, Martha Coffin Wright, Sojourner Truth and Laura Cornelius Kellogg (Oneida).
After lunch, walk in Elizabeth Cady Stanton's footsteps by visiting her house on Washington Street. She and her family would live here for 15 years before moving to New York City.
On your way to Auburn, NY – Harriet Tubman's chosen hometown and your base for day three, stop for a wine tasting at Montezuma Winery & Hidden Marsh Distillery or Izzo White Barn Winery.
Once you've arrived in Auburn, enjoy time at  Prison City Brewing for pub-style dishes, craft beer and a round of hospitality.
Check into your desired accommodations and get yourself a good night's rest – you'll continue your journey into exploring women's history tomorrow!
DAY THREE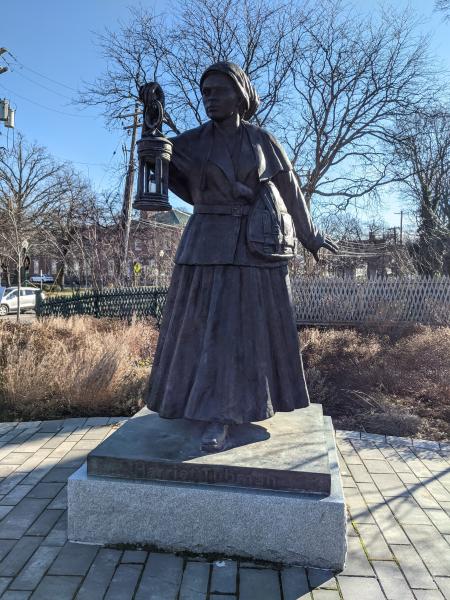 Start your day with breakfast at your accommodations, or at one of the area's restaurants. Café 108 is a great choice, and it's located right by the Equal Rights Heritage Center where you'll be visiting next. In the mood for an extra little morning pick-me-up? Gretchen's Confections handcrafts specialty chocolates, including the Harriet Tubman Truffle! (Hey, no judgement for having chocolate with your breakfast!) As you pass by, be on the lookout for the Harriet Tubman mural that depicts Tubman's life and her accomplishments after the Underground Railroad.

Your official welcome to Auburn starts with a visit to the New York State Equal Rights Heritage Center. Interact with educational displays and pick up informational pamphlets about the landmarks throughout the city. Be sure to view (and take photos with!) the Harriet Tubman statue in the courtyard!

Walk next door to the Seward House Museum, where you will learn about Frances Seward. She was the wife of William H. Seward – President Lincoln's Secretary of State – but made a name for herself as a leader in women's rights and abolition. Learn more about her family's legacy and their connection to Harriet Tubman.

Auburn, NY is where Harriet Tubman chose to live and make her home after emancipating herself and members of her family. Visit the Harriet Tubman National Historic Park to see the church where Harriet worshiped and from where she was buried with military honors..

Pay a visit to Frances Seward's and Harriet Tubman's gravesites at Fort Hill Cemetery before continuing your journey.

Your next destination will be the town of Skaneateles. If you have time to make a detour on the way, ride through the Equal Rights Historic District where you'll encounter several properties owned by freed slaves, abolitionists and women's rights advocates, including the Howland Stone Store Museum and Opendore.
As you drive through Skaneateles, you'll have plenty of opportunities to go shopping at stores including DROOZ and Company and Emma + James. You can also dine at one of the nearby restaurants like Doug's Fish Fry, Bluewater Grill or the restaurant at the Sherwood Inn for lunch. If you've left room for dessert, stop into the Chocolate Pizza Company to pick up a sweet treat for the road – and yes, they actually have chocolate pizzas!


Your next stop is to the Harriet May Mills House, home of prominent women's suffragist who was also the first woman to run for state-wide office. Harriet May Mills was connected with other well-known suffragists including Susan B. Anthony, Elizabeth Cady Stanton, Lucy Stone and Carrie Chapman Catt.
Continue eastward and enjoy a unique Downtown Syracuse experience at Wildflowers Armory, where a collective of artisans committed to community create and sell regionally made artwork, apparel and homegrown products. From there, head over to two woman-owned businesses, The Communion Wine & Spirits, on the ground floor of the historic State Tower Building for a unique taste-testing experience of a carefully selected collection of wines from around the world, from Italy to the Finger Lakes; and, if your travels are on the weekend, relax and grab a cup at 210 Teas, where you'll find that tea provides a soothing sense of comfort that speaks without words.
Wrap up your three-day deep dive into women's history in the Finger Lakes with a visit to the Matilda Joslyn Gage Home, where the abolition and women's rights advocate lived for the last 44 years of her life. Her home served as a station on the Underground Railroad. This interactive center encourages you to discuss and learn more about the social changes Matilda Joslyn Gage tirelessly fought for during her life. Fun Fact – Gage was the mother-in-law to Wizard of Oz author L. Frank Baum, and the inspiration behind "Dorothy" – a strong female who stood up for what she believed.