Fall Foliage & Autumn Activities
Fall in the Finger Lakes is the perfect time to visit and enjoy the food, wine and, of course, our well-known lakes that are a big part of what makes this region so exciting. Put on a sweater or favorite flannel and get ready to enjoy the agriculture, farm-to-table delectables and the breathtaking scenery that can only be found in the Finger Lakes region during this beautiful time of year.
DAY ONE
Spend the night in Rochester! Noted as the Most Neighborly City in America, this city has it all. From luxury hotel suites to the cozy charm of a bed and breakfast, you are sure to find your perfect accommodation. Recognized as one of the top cities for food in the country, you have lots of options for dinner at many of the local restaurants: savor delicious seasonal cuisine at Good Luck; be treated to fresh, seasonal American Fare at The Cub Room; or enjoy a complete farm-to-table experience of locally procured meat, locally sourced produce and breads, and desserts baked in house daily at Lento. Enjoy the evening, get comfortable and prepare for the fun that's ahead.
DAY TWO
Start your day with a delicious breakfast at Highland Park Diner. Not only will you enjoy a wide array of breakfast options from a menu that emphasizes freshness, but this local favorite is also included in the Rochester Landmark Society's list of architectural gems. 
Get ready for some farm market favorites at Lagoner Farms. The farm offers seasonal U-pick apples on fall weekends as well as mums and pumpkins, and the bakery is always full of delicious freshly made treats. They're also home to Embark Craft Ciderworks! Just down the road is Apple Town Farm Market, a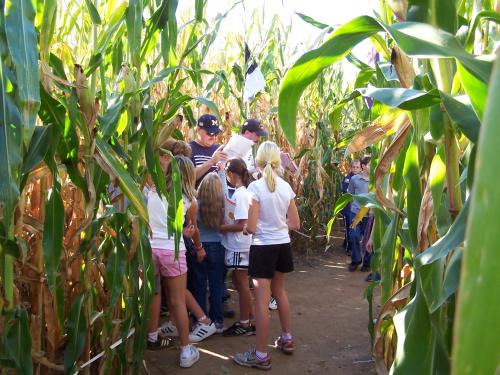 seasonal farm market featuring fresh locally grown fruits, vegetables, honey, maple syrup, apple cider and brewing supplies.
Lots of fun on the farm awaits at Long Acre Farms. Their Fall Festival will bring you not only farm freshness, but also the Amazing Maize Maze, wagon rides and a Back 40 filled with swinging, jumping and sliding. You can also enjoy a wine tasting at their on-site winery, JD Wine Cellars, known for handcrafting small batches of red, white and 100% fruit wines.
Its time unwind with a great dinner at Stoney's Pub. Relax next to the impressive stone fireplace and take in the colorful views overlooking Greystone golf course. The setting for Stoney's Pub is casual and comfortable, with the warmth and ambiance of a traditional Scottish pub.
It's been a busy day and you'll be ready to settle in for the night at one of the area's many bed and breakfasts. Enjoy an evening of tranquility as you unwind feeling content and comfy in your home away from home.
If you want a full Everything Apple Experience, check out the Wayne County Annual Apple Tasting Tour. Ten unique locations for visiting and celebrating the apple!
If wine tasting is your thing, have an autumn adventure by way of the Lake Ontario Wine Trail. Because of their locations along the shores of Lake Ontario, the Trail's wineries, distilleries, cideries and farms produce some of the best fruit in New York State.
DAY THREE
Begin the day tasting local favorites with a delicious homemade breakfast at your B&B.
Leaf peeping is an experience loved by all. The vibrant colors that grace the hills and lakesides across the Finger Lakes is a sight unlike any other. The spacious Finger Lakes Welcome Center offers views of Seneca Lake – you won't want to miss the sights or the photo opp at this spot! When inside the Center, browse the Taste of NY Market for a local treat. There's also a wine bar selling local wine, beer, and cider. Outside, you'll find a fun playground and a beautiful deck overlooking the lake that's perfect for some relaxation and enjoyment.
Dive into the season at Red Jacket Orchards and farm store. For three generations this family-owned business has grown, harvested, and pressed premium apples and other fruits into juices. The store carries an assortment of quality food and local specialty items. Fun Fact: Red Jacket Orchards is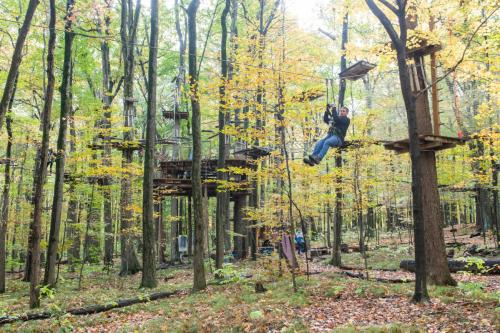 home to the largest apricot orchard on the East Coast!
There's much more leaf peeping ahead! Prepare to be in awe of the beautiful scenery on the Comet Express chairlift to the summit of Bristol Mountain. This tranquil ride will allow you to experience the Bristol Hills and the valley below in the brilliance of the season. If you want to hike, there are several options for you to enjoy with or without the chairlift ride. For a little more adventure, check out Bristol Mountain Aerial Adventures. With something for all ages, you will find ziplines, tight rope walks, rope ladders, bridges, skateboards and more.
You've certainly worked up an appetite, and there are great restaurants in the quaint village of Naples that await you! Indulge in delicious local flavor at restaurants such as Brew & Brats at Arbor Hill. Housed in a 170-year-old carriage barn, selections include locally made brats using artisan meats, with chicken, sandwiches and salads also being on the menu. The restaurant also make local brews, and you can partake in a wine tasting at their winery, Arbor Hill, located on the premises. For another winery/restaurant option, you will find Roots Café, offering a seasonal menu of meats, soups and salads made with locally sourced ingredients – even down to the flowers on the table. The restaurant is located in Inspire Moore Winery, so don't forget to do a wine tasting while you're there!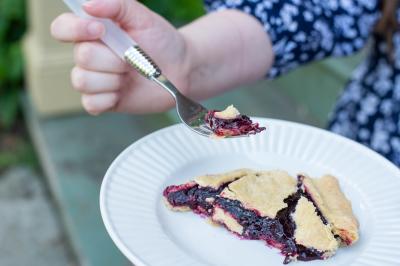 Did you know that Naples, NY is considered the grape capital of the world? When it comes to grapes, many think it's all about the wines – but it's also about the grape pies! No visit to Naples would be complete without a visit to one of these local favorites. You have several grape pie and bakery options, including Arbor Hill Grapery and Winery, Cindy's Grape Pies, Country Kitchen & Bakery and Jeni's Pies. So before heading home, be sure to treat yourself to some grapey goodness – it's a taste of the season you won't want to miss!