Relaxing Outdoor Adventure
Summertime means slowing down, breathing in the fresh air, and treating yourself to leisurely activities at your own pace: stroll through a park, bike down a trail, and spend your evenings cooling down with refreshing treats. Explore the great outdoors and stop and smell the roses that are yours to enjoy in the Finger Lakes Region.
DAY ONE
Welcome to Wayne County! If you're someone who likes to fish, this is the place for you. Consider starting your day by renting a charter from one of the many captains in the area. Sit back and cast your line as the experts on Lake Ontario's oldest and newest fishing charters help you catch trophy fish.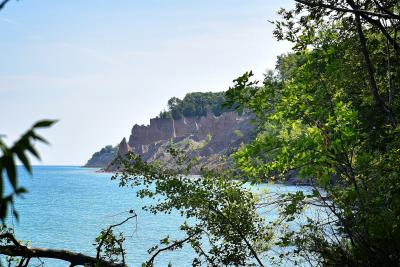 Spend the rest of the morning at Chimney Bluffs State Park. Here, you'll discover dramatic landscapes and massive spires along the shoreline. This is a fantastic opportunity for some photos! You can hike to see the bluffs from above or below and can also stroll along a sandy strip that runs against the lake. 
When you're ready for a break from the sun, enjoy the 20-minute scenic drive to The Salt Box Smokehouse.  Here you will find an array of exceptional cured and smoked meat included in a one-of-a-kind menu. With over 15 varieties of bacon, it's a unique treat you won't want to miss.
For an easy hiking option this afternoon, consider taking the Blue Cut Nature Trails. A one-h
our hike will cover the 1.5 miles of loop trails and take you through various habitats over a drumlin formed 11,000 years ago! To explore Wayne County on bike, take the Bike Tour along the Burned Over District in Palmyra.
If you're thinking about squeezing in a round of golf, look into teeing off at The Links at Greystone or Ontario Golf Club.
Tonight's dinner will be enjoyed by the lake at The Bay Street. A casual fine dining establishment with an extensive martini list and a great atmosphere. Afterward, maybe you'd like to do some wine tasting at Young Sommer Winery, which specializes in Hard Cider, Grape, and Fruit wines that come from the fruits grown along the Lake Ontario Shoreline.
For a truly unique overnight experience, unplug and recharge on a fully equipped houseboat with Erie Canal Adventures.
DAY TWO
Enjoy coffee and breakfast at Café Aqueduct before beginning your journey to Yates County.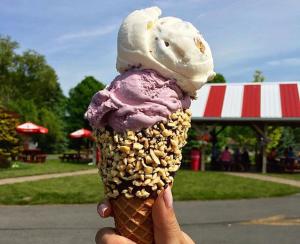 Once you arrive, explore the area by taking the Bluff Point Bike Tour in Penn Yan. You'll be treated to some spectacular views and peaceful riding along the peninsula. Highlights of this route include the Outlet Trail, Keuka Lake State Park, and the Garrett Memorial Chapel. Along your ride, stop for lunch at The Mansion at Keuka Lake.
If you're not interested in biking this route, you can spend time exploring the park and trail at your own pace.
There's nothing like getting out on the water and catching some sun this time of year. Lather up the sunscreen and spend time out on Seneca Lake; you can easily rent a stand-up paddle board, canoe, or kayak at Reagan's.
Before the day ends, take in the colorful flowers at Grace Gardens, a 4-Acre Daylily Display Garden in the heart of Yates County. Afterward, head to Serendipity Blueberry Farm for a sweet blueberry u-pick.
Tonight, treat yourself to dinner and 50+ ice cream options for dessert at Seneca Farms. Summer never tasted so good!
After your day of adventure, check into your accommodation for the evening. From lakeside cottages with wrap-around front porches to hotels with hot tubs to soak in, there are many different options that fit what you're looking for.
DAY THREE
Good morning sunshine! Start your day enjoying breakfast at Penn Yan Diner where you will have the "best breakfast in Upstate New York." When you're done eating, feel free to stroll around downtown and explore the area before leaving for your next adventure.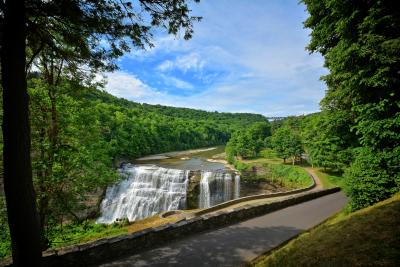 You're in for a treat; today is going to be spent at Letchworth State Park, also known as "the Grand Canyon of the East". There are so many different things to do and see inside the park. With over 66 miles of trails for hiking, horseback riding, and biking, along with guided walks, whitewater rafting, kayaking, and swimming, you won't have a second of boredom today!
While you're in the park, check out the Humphrey Nature Center, home to interactive exhibits that highlight the plants, animals, geology and river ecology of Letchworth. Then, stroll along the brand-new Autism Nature Trail which welcomes everyone of all abilities to enjoy nature at their own speed in their own way. This trail has eight stations that offer a range of experiences for all sensory levels.
If you're looking to see the park from a unique point of view, consider booking a hot air balloon ride with Balloons Over Letchworth. Taking in the roaring waterfalls and lush trees from the sky is like nothing you've ever seen before!
When it's time for lunch, you can head out of the park and towards Brian's USA Diner; everyone will find something to enjoy off the menu here.
If you're looking for a recommendation on a hiking trial in the area, you'll want to head over to the Finger Lakes Trail, Letchworth Branch in Mount Morris. This peaceful trail takes you on the east side of the Genesee River Gorge through Letchworth State Park over the course of 6 miles. Take your time to slow down and breathe in the fresh air along the way!
After a day of exploration, fuel up with dinner at Ember Wood Fire Grill; enjoy locally sourced, sustainable food in a casual dining environment.
Finish your trip in a cozy cabin, comfortable hotel, or lakeside bed & breakfast. This is what summer is all about!